Bangalore Metro – Information, Map & Updates
Menu: Construction Updates | Overview | Phase 1 Info | Phase 2 Info | Phase 2A Info | Phase 3 Info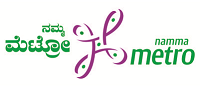 Introduction
The Bangalore (Namma) Metro system is an urban Mass Rapid Transit System (MRTS) serving Bengaluru – Karnataka's capital. Construction for the first 42.30 km phase started in April 2007 and its first section, connecting Baiyyappanahalli – MG Road on the Purple Line, opened in 2011. The 6th (final) section was inaugurated by the President on June 17 2017 and commercial operations started on the next day.
Construction work on the 73.95 km Phase 2's first new section (Mysore Road – Pattanagere, Reach-2A of Purple Line) started in September 2015 (See: Construction Updates). The project faced funding issues due to which a majority of civil construction contracts were awarded only in the first half of 2017. While the Purple Line's extension to Challeghata & Green Line's extension to Anjanapura Township will be ready in 2020, the entire phase, including a 13.9 km underground section, is expected to be ready only by 2024 after which the metro network will become 116.25 km long.
A 102 km Phase 3 is currently on the drawing board of which 17km (Central Silk Board – KR Puram) has been expedited and will be built in parallel with Phase 2 under Phase 2A.
Key Figures
Operational: 42.30 km | Under Construction: 46.195 km | Approved: 44.761 km | Proposed: 85 km
Operational Network
The embedded map below shows the exact location of all stations and can be zoomed into!
Future Network: Phase 1-2-2A-2B
Key for map below: Phase 1 | Phase 2 | Phase 2A | Phase 2B
History – Key Dates
Phase 1
20 Oct 2011: Baiyyappanahalli – MG Road (Purple line) – 6.7 km
01 Mar 2014: Sampige Road – Peenya Industry (Green line) – 9.9 km
01 May 2015: Peenya Industry – Nagasandra (Green line) – 2.5 km
16 Nov 2015: Mysore Road – Magadi Road (Purple line) – 6.4 km
30 Apr 2016: MG Road – Magadi Road (Purple line) – 4.8 km
19 June 2017: Sampige Road – Yelachenahalli (Green line) – 12 km
…..more to be added in 2020! Click on 'Construction Updates' below to view updates.
Menu: Construction Updates | Overview | Phase 1 Info | Phase 2 Info | Phase 2A Info | Phase 3 Info