Chennai Metro Phase 1 – Information & Map
Menu: Construction Updates | Overview | Phase 1 Info | Phase 2 Info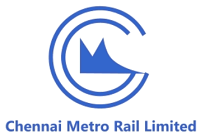 Phase 1 Information
Construction on the 54.1 km Phase 1 of the Chennai Metro system began in 2009. The first section opened in June 2015 and the last section is expected to open in 2019. In December 2015, a 9 km extension of the Blue line toward Wimco Nagar was approved. Construction on this extension started towards the end of 2016 and is expected to end in 2022.
This phase involves the construction of 2 new lines on standard gauge tracks:
Line-1 – Blue Line – Chennai Airport – Wimco Nagar (32.10 km)
Line-2 – Green Line – Chennai Central – St. Thomas Mount (22 km)
The embedded map below shows the exact location of all stations and can be zoomed into!
Key for map below: Phase 1 | Phase 2 
List of Major Contractors
Contract
Contractor
General Consultancy Services
Egis Rail – Egis India – Maunsell Consultants Asia – Balaji Rail Road Systems – Yachiyo Engineering
168 Coaches (Rolling Stock)
Alstom
Electrification & Signalling, Platform screen doors and Telecommunications
Siemens
UAA-01
Washermenpet to  Egmore/May Day
Tunnels & 4 stations
Afcons – Transtonnelstroy
UAA-02
May Day Park to AG-DMS
Tunnels & 3 stations
Gammon – Mosmetrostroy
UAA-03
AG-DMS to Saidapet
Tunnels & 4 stations
Gammon – Mosmetrostroy
UAA-04
Egmore t0 Shenoy Nagar
Tunnels & 3 stations
L&T – SUCG
UAA-05
Shenoy Nagar to Thirumangalam
Tunnels & 4 stations
Afcons -Transtonnelstroy
UAA-08
Washermenpet to Korukkupet
Tunnels & 2 stations
Afcons Infrastructure
History – Key Dates of Phase 1
29 Jun 2015: Koyambedu – Alandur (Green line) – 10 km
21 Sept 2016: Airport –  Little Mount (Blue Line) – 8.6 km
15 Oct 2016: Alandur – St. Thomas Mount (Green line) – 1.3 km
Menu: Construction Updates | Overview | Phase 1 Info | Phase 2 Info