Chennai Metro Phase 2 – Information & Map
Menu: Construction Updates | Overview | Phase 1 Info | Phase 2 Info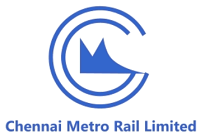 Phase 2 Information
Once Phase 1 draws to a close in 2019-20, construction on Phase 2 of Chennai Metros project will begin. This phase is currently in the proposal stage and in its latest avatar has been proposed to be 107.55 km long with another 8 kms in the pipeline. After phase 2 is built and opened in 2028 (estd.), Chennai's metro network will become roughly 169.75 km long.
This phase involves the construction of 3 new lines on standard gauge tracks:
• Line-3 – Purple Line – Madhavaram – SIPCOT (45.77 km)
• Line-4 – Orange Line – Light House – CMBT (17.12 km)
Note – this line's alignment was approved to be modified in mid-2017, and will now connect up to Poonamallee via through Vadapalani and Porur. CMRL is currently preparing a supplementary Detailed Project Report for it after which the line will become approximately 25 km long.

• Line-5 – Red Line – Madhavaram – Sholinganallur (44.66 km)
Note: Official map, line colors and list of stations are yet to be announced/revealed for these 3 new lines.
Key for map below: Phase 1 | Phase 2
Menu: Construction Updates | Overview | Phase 1 Info | Phase 2 Info