Delhi-NCR Regional Rapid Transit System – Information, Map & Updates
Menu: Construction Updates | Overview
Introduction
The Regional Rapid Transit System (RRTS) is semi-high speed rail system proposed by the National Capital Region Planning Board (NCRPB) to connect Delhi with its distant suburbs via 8 corridors with trains running at a max speed of 160 km/hr. The objective of this system is to reduce dependence of commuters on road based transportation and enhance regional connectivity within the National Capital Region. Within Delhi, the RRTS system will largely run underground, connect to the Delhi Metro Rail system and provide locals with a faster alternative option to reach their destination (Eg. nonstop service between Sarai Kale Khan – Kashmere Gate on the Delhi – Alwar line).

Equivalent systems in the rest of the world include Paris' RER and Munich's S-Bahn systems.
The project will be executed by the National Capital Regional Transport Corp (NCRTC) and is currently in the proposal stage. A task force established by the NCRPB has prioritized the construction of 3 routes: Delhi-Alwar, Delhi-Panipat and Delhi-Meerut as early bird lines. As of December 2016, only the Detailed Project Report (DPR) for the 92 km Delhi – Meerut line has been approved by the NCRPB. Draft DPRs for the Delhi – Alwar and Delhi – Panipat lines have been prepared, but are being tweaked before the final DPR is submitted for approval.
Key Figures
Operational: 0 km | Under Construction: 0 km | Proposed: 700km (approx.)
8 Identified RRTS Corridors:
Delhi – Gurgaon – Rewari – Alwar (180 km)
Delhi – Ghaziabad – Meerut (92.05 km)
Delhi – Sonipat – Panipat (111 km)
Delhi – Faridabad – Ballabhgarh – Palwal (60 km)
Delhi – Bahadurgarh – Rohtak  (70 km)
Delhi – Shahadra – Bagpat (56 km)
Ghaziabad – Khurja (83 km)
Ghaziabad – Hapur (57 km)
Proposed Network
Stations on Priority Corridors
Delhi – Meerut Line (17): Nizamuddin/Sarai Kale Khan, Anand Vihar, Sahibabad, Mohannagar, Ghaziabad, Guldhar, Duhai, Muradnagar, Modinagar, Meerut South, Shatabdi Nagar, Nauchandi/Hapur Road, HRS Chowk, Begam Pul, Meerut North, Modipuram
Delhi – Panipat Line (11): Kashmere Gate, Mukarba Chowk, Narela, Kundli, KMP Interchange, Rajiv Gandhi Education City, Murthal, Gannaur, Gannuar City, Samalkha, Panipat South, Panipat North
Delhi – Alwar Line (19): Kashmere Gate, New Delhi, Sarai Kale Khan, INA, Dhaula Kuan, Aerocity, Cybercity, IFFCO Chowk, Kherki Dhaula, Manesar, Panchgaon, Dharuhera, BTK, MBIR, Rewari, Bawal, SNB, Khairthal, Alwar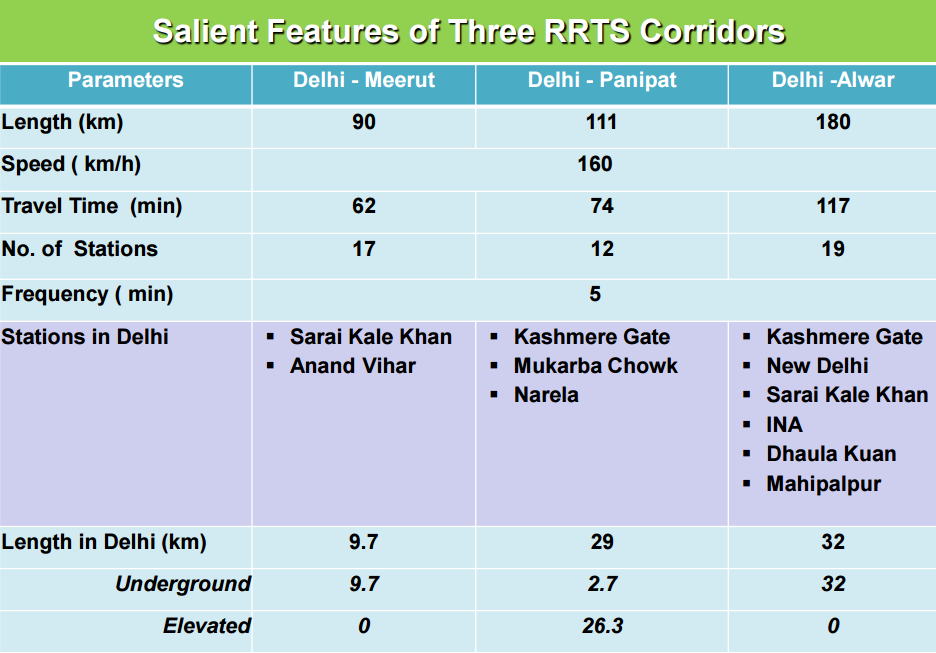 Menu: Construction Updates | Overview