Sydney Metro – Information, Route Map, Fare & Timings

Sydney Metro is a 66 km automated mass rapid transit system with 1 line and 31 stations located in Sydney, New South Wales, Australia.
Sydney Metro System Information
• Owner: Transport for NSW (RailCorp)
• Operator: Metro Trains Sydney
• Total Planned Network: 66 km
• Operational Network: 36 km
• Operational Stations: 13
• Operations Began: 26 May 2019
• Rolling Stock: Alstom Metropolis (22 x 6, made in Sri City, India)
• Track Gauge: Standard Gauge (1,435 mm)
Sydney Metro Lines (Operational Network)
Metro North West Line: Tallawong (Cudgegong Road) – Chatswood
• Total Length: 36 km (22 mi)
• Stops/Stations: 13
• Stations: Tallawong, Rouse Hill, Kellyville, Bella Vista, Norwest, Hills Showground, Castle Hill, Cherrybrook, Epping, Macquarie University, North Ryde, Chatswood
Sydney Metro Lines (Under Construction Network)
Metro North West Line: Chatswood – Bankstown
• Total Length: 30 km (19 mi)
• Stops/Stations: 17
• Stations (6 new): Crow's Nest, Victoria Cross, Barangaroo, Martin Place, Pitt Street, Central
• Stations (11 upgrade of T3): Sydenham, Marrickville, Dulwich Hill, Hurlstone Park, Canterbury, Campsie, Belmore, Lakemba, Wiley Park, Punchbowl and Bankstown
Sydney Metro Route Map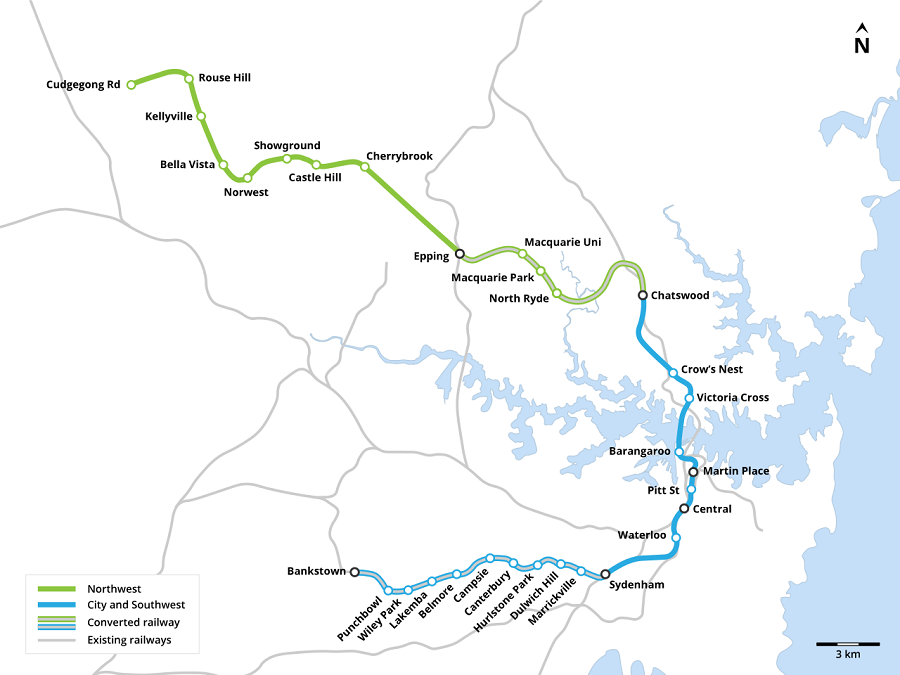 Source/Author: strata8
Sydney Metro Fares (Prices)
In Sydney and surrounding regions, fares are based on:
• the distance you travel from tap on to tap off
• the mode of transport you choose
• whether you're eligible for a concession fare or free travel
• any Opal benefits such as discounts and capped fares that apply
Adult tickets are for everyone aged 16 years and older, with the exception of NSW/ACT Senior Secondary Students and those eligible for a concession fare. If you don't have an Opal card you can use your contactless payment card or device for Adult Opal fares. Or you will need to purchase an Opal single trip ticket. If you forget to tap off you'll be charged a default fare which is the maximum possible fare for your trip.
Distance
Adult Opal
card fare
Adult Opal single
trip ticket fare

0 – 10 km

$3.61
($2.52 off-peak)

$4.50

10 – 20 km

$4.48
($3.13 off-peak)

$5.60

20 – 35 km

$5.15
($3.60 off-peak)

$6.40

35 – 65 km

$6.89
($4.82 off-peak)

$8.40

65+ km

$8.86
($6.20 off-peak)

$10.80
Sydney Metro Hours (Timetable)
Sydney Metro train services are operated frequently with a headway of 4 minutes (peak) and 10 minutes (off-peak) throughout the day from early morning until late at night.
Current PDF timetables can be viewed on Transport for NSW's website.
Page last updated: February 28, 2023. Spot an issue? Let me know here. View information on other metro systems around the world here.