Dwarka Expressway – Information & Status Update
29.10 km Dwarka Expressway project (NH 248-BB) is an under construction access controlled expressway with a route alignment connecting Mahipalpur (Shiv Murti) in Delhi with Kherki Dhaula via New Gurgaon (Gurugram) in Haryana.
This project was planned as the Northern Peripheral Road (NPR) in 2006 and transferred to NHAI in 2016. The expressway is under Construction by J Kumar and Larsen & Toubro and will feature 20+ flyovers / bridges, 2 rail overbridges / underpasses, 11 vehicle underpasses, 20 underground pedestrian crossings, and a 2.5m wide cycle / bike path.
Total Estimated Cost: Rs. 8,662 crore
Length: 29.10 km
Lanes: 8 lanes + local service lanes
Owner: National Highway Authority of India (NHAI)
Status: Under Construction
Completion Deadline: 2022-end
Project Model: Engineering, Procurement & Construction (EPC)
The Delhi Metro Rail Corporation (DMRC) has planned a metro line along Dwarka Expressway, but the project – along with many others – is pending approval from the Haryana Government.
A new 5 km tunnel has been planned to Terminal 3 at Delhi's Indira Gandhi International (IGI) Airport (see Package 5 below)
Project Overview Video
Route Map
This expressway through new Gurgaon has led to the creation of many new housing / residential real estate projects. Residential sectors along the way include 83, 84, and 99-113. Commercial sectors include 105, 106, 109, 110, 110A, 111, 112, and 113.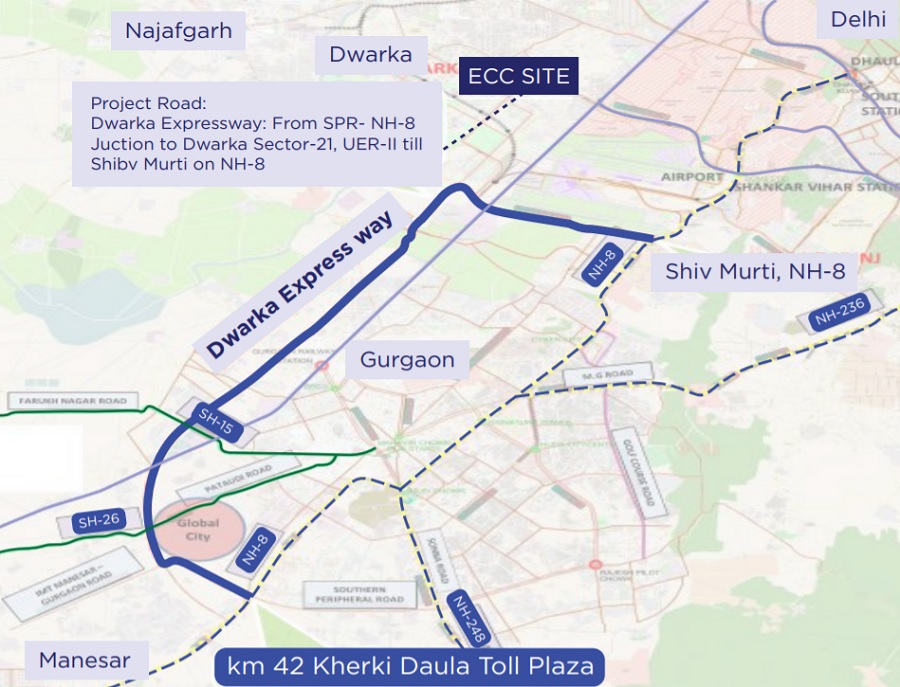 The project has been divided up into 4 packages: 2 within Delhi totaling 10.10 km and 2 within Gurugram totaling 19 kms. Prakhar Sahay on YouTube has explained all packages' alignment, features and interchanges in great detail over here.
Package 1
Scope: IGI Airport and Shiv Murti at Mahipalpur to Bijwasan Road Underbridge (RUB) (Km -0.60 to Km 5.30)
Length: 5.90 Km
Contractor: J Kumar Infraprojects (JKIL)
Contract Value: Rs. 1349 crore
Status: Under construction since September 2020 after Delhi Government's approval in July, 2020
Note: This road will form a part of the upcoming UER II Expressway on the west side of Delhi. It will also be the western terminal of the upcoming Rangpuri Bypass which will connect to Vasant Kunj at Nelson Mandela Marg.
Package 2
Scope: Bijwasan RUB to Delhi/Haryana Border (Km 5.30 to Km 9.50)
Length: 4.2 km
Contractor: J Kumar Infraprojects (JKIL)
Contract Value: Rs. 1540 crore
Status: Under Construction
Note: This package connects to the under construction international exhibition-cum-convention centre (ECC) project at Dwarka's Sector 25.
Package 3
Scope: Delhi/Haryana border to Basai Rail Overbridge (ROB) (Km 9.5 to Km 19.70)
Length: 10.2 km
Contractor: Larsen & Toubro (L&T)
Contract Value: Rs. 1334 crore
Status: Under Construction
Note: This package features an 8.5 km 8-lane flyover on a single pier. Basai ROB is being expanded with an additional ROB.
Package 4
Scope: Basai ROB to Kherki Dhaula (Km 19.70 to Km 28.5)
Length: 8.8 km
Contractor: Larsen & Toubro (L&T)
Contract Value: Rs. 1,046 crore
Status: Under Construction
Note: On the southern-end, the expressway becomes a part of Central Peripheral Road (CPR) and ends at Southern Peripheral Road (SPR). A cloverleaf interchange is under construction to connect it with NH-48 (old NH-8) highway.
Package 5
Scope: Airport Connectivity from Dwarka Expressway – Tunnel to T3
Length: 5 km
Lanes: 4
Contractor: Not Assigned
Status: Tender Notice Pending
Status Update
Video by Rajan Singh (RSLive) shows the expressway's current status:
Page last updated: November 9, 2022. Have a question or spot an error? Let me know here.