Bundelkhand Expressway – Information & Status
296 km Bundelkhand Expressway project by UPEIDA is an under construction 4 lane access-controlled road with a route alignment connecting Kudrail Village in Etawah District with Bharatkoop on NH-35 in Chitrakoot District.
This greenfield project was first announced in April 2017 with land acquisition starting in December 2018. Its foundation stone was laid by Prime Minister Narendra Modi in February 2020 and construction work started soon after by 4 contractors on 6 civil packages.
Prime Minister Narendra Modi inaugurated and opened Bundelkhand Expressway on July 16, 2022 to users.
Total Estimated Cost: Rs. 14,716 crore
Project's Total Length: 296.070 km
Lanes: 4 (expandable to 6)
Status: Operational
Deadline: 2021-end
Opening: July 16, 2022
Owner: Uttar Pradesh Expressways Industrial Development Authority (UPEIDA)
Project Model: EPC (Engineering, Procurement and Construction)
The project has a right-of-way (ROW) of 110 meters and features 4 railway over bridges (ROBs), 14 large bridges, 6 toll plazas, 7 ramp plazas, 266 small bridges, and 18 flyovers.
Project Overview Video
Current Status
The expressway was opened on July 16, 2022.
Route Map
The expressway's northern terminal is at the Agra – Lucknow Expressway in Etawah District. From there it connects the districts of Auraiya, Jalaun, Hamirpr, Mahoba, Banda and Chitrakoot. Along its route, it passes over the following rivers: Bagen, Ken, Shyama, Chandawal, Birma, Yamuna, Betwa, and Sengar.
The following not-so-pretty map from UPEIDA's website shows the start and end points of the expressway. You'll be better off following its alignment on Google Maps here.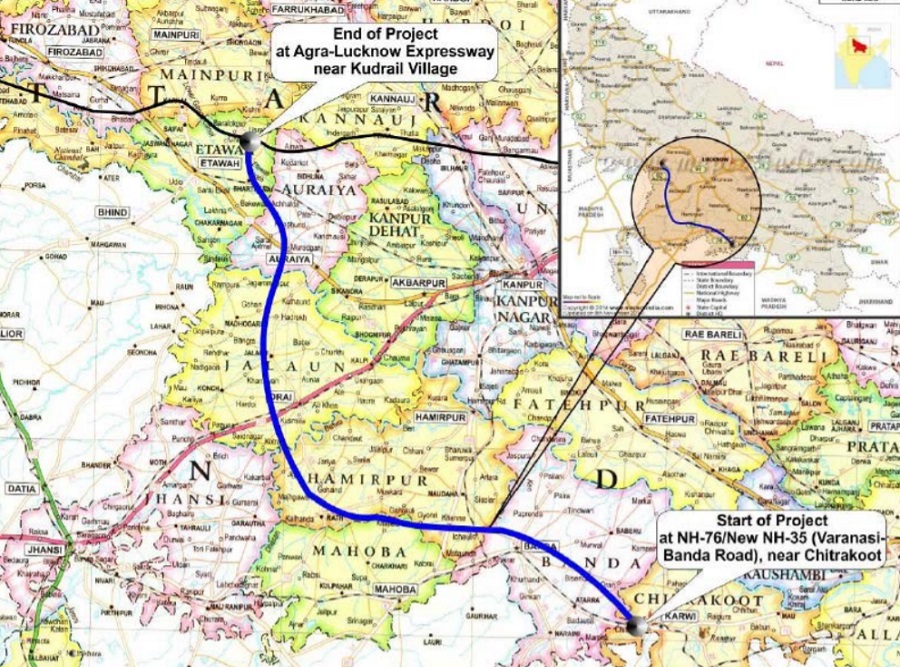 An official PDF route map of Bundelkhand will be added here when available.
Tenders & Contractors
The project has been divided into 6 civil packages with a 36 month deadline.
| | |
| --- | --- |
| Package & Chainage | Contractor |
| Package 1: Gonda, district Chitrakoot to Manokhar, district Banda (0+790 to 49+700) | Apco Infratech |
| Package 2: Manokhar, district Banda to Kaouhri, district Mahoba (49+700 to 100+000) | Apco Infratech |
| Package 3: Kaouhri, district Mahoba to Brolikharka, district Hamirpur (100+000 to 149+000) | Ashoka Buildcon |
| Package 4: Brolikharka, district Hamirpur to Salabaad, district Jalaun (149+000 to 200+000) | Gawar Construction |
| Package 5: Salabaad, district Jalaun to Bakhariya, district Auraiya (200+000 to 250+000) | Gawar Construction |
| Package 6: Bakhariya, district Auraiya to Kudrail, district Etawah (250+000 to 295+280) | Dilip Buildcon |
UPEIDA Project Menu: Purvanchal Expressway | Bundelkhand Expressway | Gorakhpur Link Expressway | Ganga Expressway
Page last updated: June 19, 2023. Have a question or spot an error? Let me know here.