Delhi Urban Extension Road 2 – Information & Status
74.98 km Delhi Urban Extension Road (UER) II project is an under construction expressway (NH-344M) by NHAI which in Phase 1 will form a 38.111 km 3rd semi Ring Road within Delhi along its western boundary.
The project was envisioned in the early 2000s by DDA as part of Delhi's 2021 Master Plan, but was handed over to NHAI in 2018 after it failed to take off due to land acquisition and financial issues. DDA will now provide viability gap funding worth Rs. 4000 crore.
UER 2's Detailed Project Report (DPR) was created by URS Scott Wilson India – AECOM India JV. The project also features two spurs (NH-344P) to Bahadurgarh Bypass and to Barwasni Bypass in Sonipat. A 7.5 km section of UER 2 is currently under construction by J Kumar Infraprojects as part of Dwarka Expressway's packages 1 and 2.
UER 2 is expected to be completed and opened in December 2024 (current deadline).
Total Estimated Cost: Rs. 7,715.60 crore
Project's Total Length: 74.98 km
UER 2's Length (Phase 1): 38.111 km
Bahadurgarh Spur's Length: 7.269 km
Sonipat Spur's Length: 29.60 km
Lanes: 6 lanes (main expressway) & 4 lanes (spurs)
ROW: 100m
Completion Deadline: December 2024
Owner: National Highway Authority of India (NHAI)
Status: Under Construction (minor land acquisition underway)
Project Model: EPC (Engineering, Procurement and Construction)
Route Map
UER 2's alignment in the north starts from NH 1 (Km. 23.800) near village Bankoli and terminates near the junction of Sector 24 in Dwarka. Its route will connect old NH-1, NH-10, NH-8 and NH-2 via Bawana Industrial Area, Rohini, Mundka, Najafgarh and Dwarka to provide seamless access between north, northwest Delhi, IGI Airport and Gurugram.
Note: the map below doesn't show the full alignment / extent of the spur to Sonipat: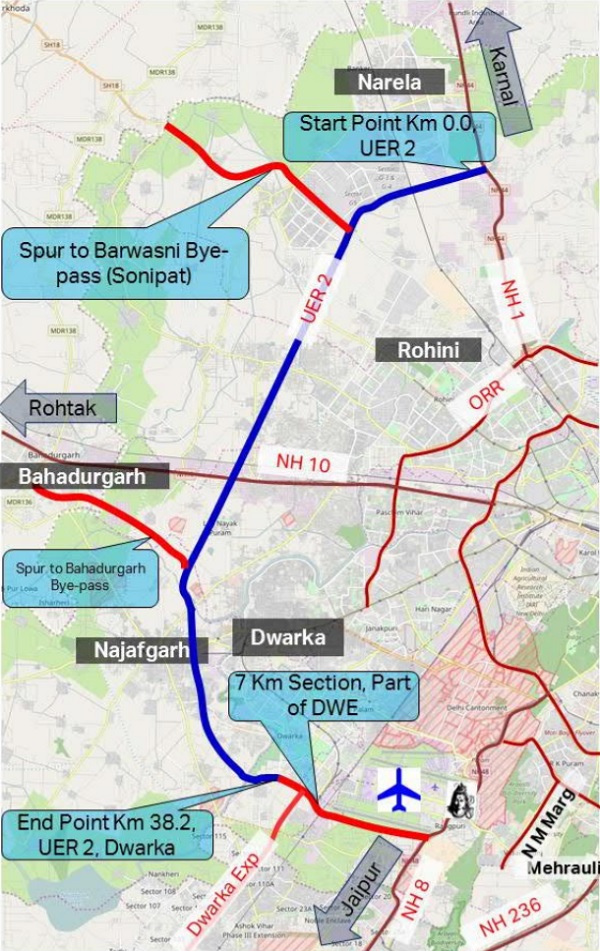 Current Status
UER 2 is expected to be completed and opened in December 2024 (current deadline). Here's a recent video by RSLive (Rajan Singh) on YouTube:
Tenders & Contractors
The project has been divided up into 5 packages. Tenders for construction were invited by NHAI in December 2019 and construction contracts were awarded in 2021.
| | |
| --- | --- |
| Package (length) and Section | Status |
| Package 1 (15.70 km): NH-1 Intersection to Karala-Kanjhawala Road (Km -0.700 to 15.000) | HG Infra Engineering |
| Package 2 (13.45 km): Karala Kanjhawala Road to Nangloi – Najafgarh Road (Km 15.000 to 28.450) | Ceigall India – Krishna Constructions JV |
| Package 3 (9.661 km): Nangloi – Najafgarh Road till Sector 24 Dwarka (Km 28.450 to 38.111) | Gawar Constructions Ltd. – ES Infrastructure Pvt. Ltd. (JV) (16 bids were received) |
| Package 4 – Sonipat Spur (29.6 km): Bawana Industrial Area (Km 7.750) to Barwasni Bypass | Ram Kumar Contractor is lowest bidder (15 Bids Received) |
| Package 5 – Bahadurgarh Spur (7.269 km): Dichaun Kalan (Km 26.135) to Bahadurgarh Bypass near village Balaur | SS Builders – Diamond Construction Co. JV is lowest bidder at Rs. 238.99 crore (18 bids were received) |
UER Phase 2
Phase 2 of UER 2 will be taken up by the Delhi Government. It includes includes constructing the Rangpuri Bypass to Vasant Kunj, upgrading Nelson Mandela Marg till Andheria Mor, building an interchange at Andheria Mor and Anuvrat Marg-Mehrauli-Badarpur Road intersection of NH-236, and widening of Mehrauli Badarpur Road. It also includes building an elevated corridor at critical locations along NH-2.
Phase 1 & Phase 2 Map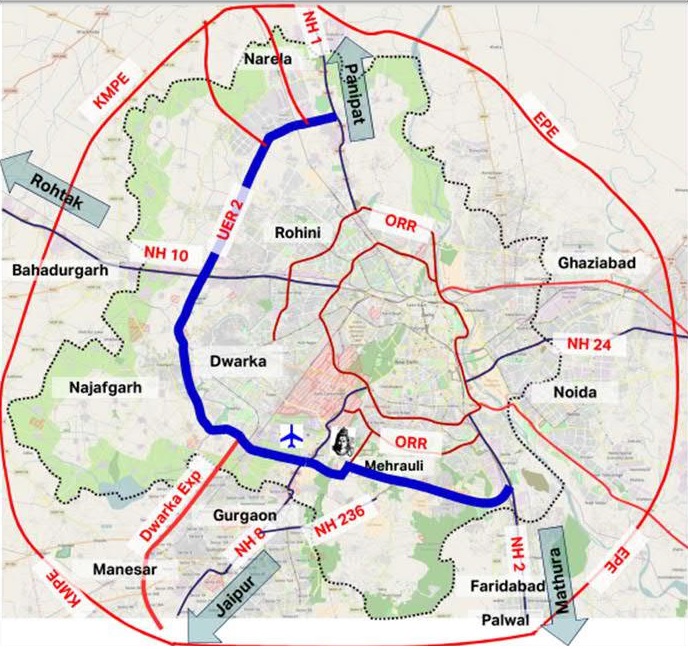 Page last updated: June 19, 2023. Have a question or spot an error? Let me know here.