Nashik Metro NEO – Information, Route Map, Fares, Tenders & Updates
Menu: News & Construction Updates | Overview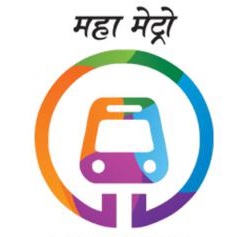 Information
Nashik Metro, also known as Metro NEO, with 2 electric trolleybus lines totaling 32 kms is a bus rapid transit system proposed to be built in Nashik, Maharashtra jointly by the Maharashtra Metro Rail Corporation Limited (Maha-Metro), City and Industrial Development Corporation (CIDCO) and Maharashtra Industrial Development Corporation (MIDC).
Estimated Project Cost: Rs. 2100.60 crore
Deadline: Not Announced
Electric bus coaches on this unique system will be 25 meters long, run on rubber wheels and have a maximum capacity to carry 250 passengers at a time. Overall system capacity is estimated at 15000 PPHPD (Passengers Per Hour Per Direction). Coaches will draw power from an overhead electrical (OHE) system on the elevated portions and use battery-power while operating on the at-grade (road) sections.
Per Maha-Metro's MD Brijesh Dixit, the system can be upgraded to a rail-based light rail transit (LRT) system in the future if ridership goes up substantially.
Nashik Metro Phase 1's detailed project report (DPR) was prepared by RITES Ltd. and approved by Maharashtra's cabinet in August 2019. Its approval is currently pending on the Central Government. The state government hopes to receive a loan for its development from the European Investment Bank (EIB).
Key Figures
Operational: 0 km | Under Construction: 0 km | Approved: 0 km | Proposed: 32 km
Nashik Metro Routes (Proposed)
Note: Official line colors have not been finalized.
Line-1: Gangapur – Mumbai Naka
Length: 10 km
Type: Elevated & At-Grade
Depot: Satpur (7.5 acre)
Number of Stations: 10
Station Names: Gangapur, Jalapur, Ganpat Nagar, Kale Nagar, Jehan Circle, Thatte Nagar, Shivaji Nagar, Ashok Stambh Panchavati, CBS, Mumbai Naka
CBS and Gangapur Stations will serve as an interchange between both lines.
Line-2: Gangapur – Nashik Road Railway Station (22 km)
Length: 10 km
Type: Elevated & At-Grade
Depots: 2 along Nashik Road (5.70 & 4.0 acres)
Number of Stations: 20
Station Names: Gangapur, Dhruv Nagar, Shramik Nagar, Mahindra, Shaneshwar Nagar, Trimbak Rd, Satpur Colony, MIDC, ABB Circle, Parijat Nagar, MICO Circle, CBS, Sharda Circle, Dwarka Circle, Gayatri Nagar, Ambedkar Nagar, Upnagar, Nehru Nagar, Datta Mandir, Nashik Road Railway Station
Nashik Metro Feeder Bus Lines
Two feeder corridors have been planned to provide seamless travel and wider coverage. The feeder corridors will run between Satpur Colony via Garware to Mumbai Naka and between Nashik Road via Nandur Naka to Shivaji Nagar on the existing road network. Feeder AC electric coaches will be 12-13 meter long with a carrying capacity of 60-70 passengers.
• Line-1: Mumbai Naka via Garware to Satpur Colony (12 km)
• Line-2: Nashik station to Shivaji-nagar via Nandur Nakka (12km)
Nashik Metro NEO Route Map (Master Plan)
Map below shows the tentative location of all stations. Feeder bus service is shown by black lines.
An official PDF route map of Nashik's metro network master plan will be added here when available.
Nashik Metro Concept Video
Nashik Metro Fares (Ticket Prices)
Nashik Metro's fare structure, prices and rules have not been finalized or announced yet. That will be done closer to the start of commercial operations.
Nashik Metro Tenders
Latest Nashik Metro notices inviting tenders can be viewed on Maha-Metro's website. No tenders for its pre-construction work have been invited yet. News on these notices, their bidders, awarded tenders and contracts will be covered in further detail on the news & construction page.
Click on 'News & Construction Updates' below for project news, progress and updates.
Menu: News & Construction Updates | Overview
Page last updated: September 1, 2023. Have a question or spot an error? Let me know here.