Chennai Metro – Information, Route Maps, Fares, Tenders & Updates
Menu: News & Construction Updates | Overview | Phase 1 Info | Phase 1 Extension Info | Phase 2 Info | Metrolite Project Info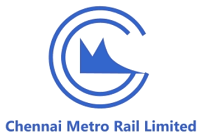 Information
Chennai Metro is an urban Mass Rapid Transit System (MRTS) being built to serve Chennai – Tamil Nadu's capital by Chennai Metro Rail Limited (CMRL).
Construction on Chennai Metro's Phase 1 with 45.1 km of routes commenced in April 2009, with the first section of the Blue Line (Line-1) between Koyambedu – Alandur opening in June 2015. Further sections opened up one after the other between 2015-2019, with the final section connecting AG-DMS with Washermenpet opening in February 2019.
A 9.051 km extension of the Blue line (Line-1) as part of the Phase 1 Extension project, connecting Washermanpet to Wimco Nagar through 8 stations, is expected to open for commercial operations by 2020-end.
Chennai Metro's 118.9 km Phase 2 project comprising of 3 new lines was approved by the Tamil Nadu government in 2019 at an estimated cost of Rs. 69,180 crores. The Central Government's approval is still pending.
Out of 118.9 km, 52.01 km of Line-3 between Madhavaram – Sholinganallur and Line-5's Madhavaram – CMBT will be built on priority. Tendering for this mostly underground phase began in January 2020 and is expected to open in phases from 2026 onwards.
System Specifications
Top Speed: 80 kmph
Average Speed: 33 kmph
Track Gauge: Standard Gauge – 1435 mm
Electrification: 25 kV, 50 Hz AC overhead catenary (OHE)
Signalling: Communication-based Train Control (CBTC)
Key Figures
Operational: 54.15 km | Under Construction: 102.97 km | Approved: 15.93 km | Proposed: 15.3 km
Daily Ridership: 1.15 lakh/day (February 2020)
Rolling Stock: 208 coaches (52 train-sets x 4) supplied by Alstom
Line-1

–

 

Blue Line

: Chennai Airport – Wimco Nagar (32.15 km, 25 stations)
Line-2

–

 

Green Line

:

Chennai Central – St. Thomas Mount (22 km, 17 stations)
Under Construction Lines (Phase 2)
Line-3 (Purple Line): Madhavaram – SIPCOT 2 (45.813 km, 49 stations)
Line-4 (Orange Line): Light House – Poonamallee Bus Depot (26.1 km, 30 stations)
Line-5 (

Red Line

): Madhavaram – Sholinganallur (47 km, 48 stations)
Note: official line colors for lines 3-5 have not been announced.
Proposed Lines (Misc)
Line-1

–

 

Blue Line

: Airport – Kilambakkam (15.3 km, 14 stations)
Note: Feasibility report for extension was completed in 2019 by Larsen and Toubro Infrastructure Engineering. Detailed Project Report (DPR) expected to be ready by 2020-end. This line may be included in Phase 2 plans.
Likely Station Names: Arumalai Chavadi, Pallavaram, Kothandam Nagar, Chrompet, Mahalakshmi Nagar, Thiru-Vi-Ka Nagar, Tambaram, Irumbuliyar, Peerkankaranai, Perungalathur, RMK Nagar, Vandalur, Anna Zoological Park, Kilambakkam
Operational Network Route Map
The embedded map below shows the exact location of all stations and can be zoomed into!
An official PDF route map of Chennai Metro will be added here when available.
Future Network Route Map: Phase 1, Phase 1 Extension & Phase 2
Key for map below: Line-1 | Line-2 | Line-3 | Line-4 | Line-5
Key for map below: Phase 1 | Phase 1 Extension | Phase 2
Fares (Ticket Prices)
Fares on the Chennai Metro are calculated based on distance traveled and dependent on type – token (single journey) and smart card available with a refundable deposit of Rs. 50 – best for multiple journeys with flat 10% savings. Users can load amount in multiples of Rs. 50 up to a maximum of Rs. 3000. The card must always maintain a balance of Rs. 10 and the card is valid for 5 years from the time of purchase or recharge, whichever is later.
Chennai Metro doesn't offer a simple online fare calculator. The fare chart is available online here.
Tenders
Latest Chennai Metro (CMRL) tender notices can be viewed on the CMRL's website. News on these notices, their bidders and contracts are covered in further detail on the news & construction page. See the Phase 1 and Phase 2 pages (linked below) for a list of major contractors.
History – Key Dates
Phase 1
• 29 Jun 2015: Koyambedu – Alandur (Green line) – 10 km
• 21 Sept 2016: Airport – Little Mount (Blue Line) – 8.6 km
• 15 Oct 2016: Alandur – St. Thomas Mount (Green line) – 1.3 km
• 14 May 2017: Koyambedu – Nehru Park (Green line) – 8 km
• 25 May 2018: Little Mount – AG-DMS (Blue Line) – 4.8 km
• 25 May 2018: Nehru Park – Central (Green line) – 2.6 km
• 10 Feb 2019: AG-DMS – Washermenpet (Blue Line) – 9.8 km
Phase 1 Extension
• 14 Feb 2021: Washermenpet – Wimco Nagar (Blue Line) – 9.05 km
Click on 'News & Construction Updates' below for project news, progress and updates.
Menu: News & Construction Updates | Overview | Phase 1 Info | Phase 1 Extension Info | Phase 2 Info | Metrolite Project Info
Page last updated: April 24, 2023. Have a question or spot an error? Let me know here.