Bangalore Metro – Information, Route Maps, Fares, Tenders & Updates
Menu: News & Construction Updates | Overview | Phase 1 Info | Phase 2 Info | Phase 2A Info | Phase 2B Info | Phase 3 Info | Metrolite Project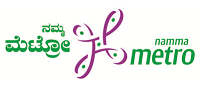 Information
Bangalore (Namma) Metro is an urban Mass Rapid Transit System (MRTS) with 2 lines and 40 stations serving Bengaluru, Karnataka's capital and largest city.
Construction for Bangalore Metro Phase 1 with 42.30 km of routes started in April 2007. Its first section, connecting Baiyyappanahalli – MG Road on the Purple Line, opened up in 2011. The 6th (and final) section was inaugurated by India's President on June 17 2017 and commercial operations started on the next day.
Construction work on the 73.921 km Bangalore Metro Phase 2's first new section (Mysore Road – Pattanagere, Reach-2A of Purple Line) started in September 2015. The project faced funding issues due to which a majority of civil construction contracts were awarded only in the first half of 2017.
While the Purple Line's extension to Challeghata & Green Line's extension to Anjanapura Township will be ready in 2020, the entire phase, including a 13.9 km underground section of the Pink Line, is expected to be ready only by 2024 after which the metro network will become 116.25 km long.
Bangalore Metro's Phase 3 project with routes totaling 105.55 km is currently on the drawing board. From that, 18 km (Central Silk Board – KR Puram) and 38 km (KR Puram – KIAL Airport) of lines have been expedited and will be built in parallel with Phase 2 under Phase 2A and Phase 2B respectively.
System Specifications
Top Speed: 80 kmph
Average Speed: 34 kmph
Track Gauge: Standard Gauge – 1435 mm
Electrification: 750 V DC Third Rail
Signalling: Distance to Go (Purple & Green lines), CBTC (Yellow & Pink lines)
Key Figures
Operational: 42.30 km | Under Construction: 73.921 km | Approved: 55.236 km | Proposed: 105.55 km
Daily Ridership: 4.15 lakh/day (February 2020)
Rolling Stock: 342 coaches (57 train-sets x 6) supplied by BEML and 216 coaches (36 x 6) to be supplied by CRRC
Operational Lines (Phase 1)
Line-1 –

Purple Line:

 Baiyyappanahalli – Mysore Road  (18.10 km, 17 stations)
Line-2 –

Green Line:

 Nagasandra – Yelachenahalli (erst. Puttenahalli) (24.20 km, 24 stations)
Under Construction Lines (Phase 2)
Line-1 –

Purple Line:

 Mysore Road – Challaghatta (8.814 km, 7 stations)
Line-1 –

Purple Line:

 Baiyyappanahalli – Whitefield (15.257 km, 13 stations)
Line-2 –

Green Line:

 Yelachenahalli (erst. Puttenahalli) – Anjanapura (6.29 km, 5 stations)
Line-2 –

Green Line:

Hesaraghatta Cross (erst. Nagasandra) – Madavar (erst. BIEC) (3.031 km, 3 stations)
Line-3 –

Yellow Line:

 RV Road – Bommasandra (19.143 km, 16 stations)
Line-4 –

Pink Line:

 Gottigere (Kalena Agrahara) – Nagawara (21.386 km, 18 stations)
Line-5 – Blue Line: Central  Silkboard – KR Puram (18.236 km, 13 stations)
Line-5 –

Blue Line:

KR Puram – Hebbal – KIAL Terminals (37 km, 17 stations)
Note: Line-5 has been approved by the Karnataka state government and is currently awaiting the Central Government's approval.
Proposed Lines Pending Approvals (Phase 3)
105.55 km of routes proposed in Phase 3 (not finalized & likely to change by the time approved)
Operational Network Route Map
The embedded map below shows the exact location of all stations and can be zoomed into!
An official PDF route map of Bangalore Metro will be added here when available.
Future Network: Phase 1-2-2A-2B
Key for map below: Phase 1 | Phase 2 | Phase 2A | Phase 2B
Fares (Ticket Prices)
Fares on the Bangalore Metro are calculated based on distance traveled and dependent on type –
Token (best for single one-way journeys) – minimum of Rs. 10 and maximum of Rs. 50.
Group Tickets – Issued to a minimum of 25 passengers intending to travel together between the same set of stations. This type of tickets gives a discount of 10% over token fare.
Smart Card (Varshik) – Rechargeable contactless cards are available for Rs. 50 and offer 5% off over token fare. Users can load amount in multiples of Rs. 50 up to a maximum of Rs. 3000.
BMRCL's fare calculator is simple and can be viewed here.
Tenders
Latest Bangalore Metro (BMRCL) tenders can be viewed on the BMRCL's website. News on these notices, their bidders and contracts are covered in further detail on the news & construction page.
History – Key Dates
Phase 1
• 20 Oct 2011: Baiyyappanahalli – MG Road (Purple line) – 6.7 km
• 01 Mar 2014: Sampige Road – Peenya Industry (Green line) – 9.9 km
• 01 May 2015: Peenya Industry – Nagasandra (Green line) – 2.5 km
• 16 Nov 2015: Mysore Road – Magadi Road (Purple line) – 6.4 km
• 30 Apr 2016: MG Road – Magadi Road (Purple line) – 4.8 km
• 19 June 2017: Sampige Road – Yelachenahalli (Green line) – 12 km
…..more to be added in 2021! Click on 'News & Construction Updates' below for project news, progress and updates.
Menu: News & Construction Updates | Overview | Phase 1 Info | Phase 2 Info | Phase 2A Info | Phase 2B Info | Phase 3 Info | Metrolite Project
Page last updated: July 19, 2020. Spot an issue? Let me know here.