Mumbai Trans Harbour Link – Information & Status
21.8 km Mumbai Trans Harbour Link (MTHL) by MMRDA is an under construction 6 lane access-controlled sea bridge with a route alignment connecting Sewri in Mumbai with Chirle in Navi Mumbai, Maharashtra.
This project has been in the works since the 1990s and several attempts have been made to develop it. The project's foundation stone was laid by Prime Minister Narendra Modi in December 2016, and construction work started in April 2018 for 3 civil packages.
Mumbai Trans Harbour Link is expected to be completed and opened in August 2023 (current deadline),
When completed by L&T and Tata Projects, MTHL will be the longest bridge / sea link in India. 85% of the MTHL project's construction is being financed by JICA which released the first tranche of Rs. 7910 crore ($1.22bn) in March 2017.
Total Estimated Cost: Rs. 17,843 crore
Total Project Length: 21.80 km
Bridge Length: 18.187 km
Material: Concrete & Steel
Deadline: August 2023
Width: 27m
Lanes: 6
Status: Under Construction
Chief Lender: Japan International Cooperation Agency (JICA)
Owner: Mumbai Metropolitan Region Development Authority (MMRDA)
Project Model: EPC (Engineering, Procurement and Construction)
General Consultant: AECOM-Padeo-Dar Al Handasah-TYLIN Consortium
Project Overview Video (Old)
Design & Alignment
Mumbai Trans Harbour Link will be a six-lane expressway bridge across Mumbai's harbour and pass over Sewri mudflats, Pir Pau Jetty and Thane Creek channels. On the Sewri-end, a three-level interchange is planned to connect with the Sewri-Worli Elevated Corridor and Eastern Freeway. On the Navi Mumbai-end, the bridge has an interchange each at Shivaji Nagar and Chirle.
This concrete bridge will feature a 4 km steel span section in the middle to allow for ships to pass underneath. The longest span of MTHL will be 180m and the shortest will be 100m long. MTHL's lanes will have a width of 3.5 meters with a 2.5 meter wide shoulder on either side and 0.75m shoulder at the median, based on JICA's recommendation. The maximum speed limit will be restricted to 100 kmph.
MTHL will feature an intelligence transport system (ITS) and the other amenities required for a marine bridge. The traffic conditions on the stretch will be monitored and managed from the traffic control centre with the help of CCTV cameras and related facilities installed on the stretch. Variable message signs (VMS) will also be installed to display appropriate information for the bridge users.
The bridge will be equipped with noise barriers near Sewri mud flat area and view barriers at Bhabha Atomic Research Centre (BARC) to fulfil environmental criteria.
Route Map
MMRDA released MTHL's map in their Supplemental EIA report of Nov 2015. You can view the bridge's satellite imagery on Google Maps here.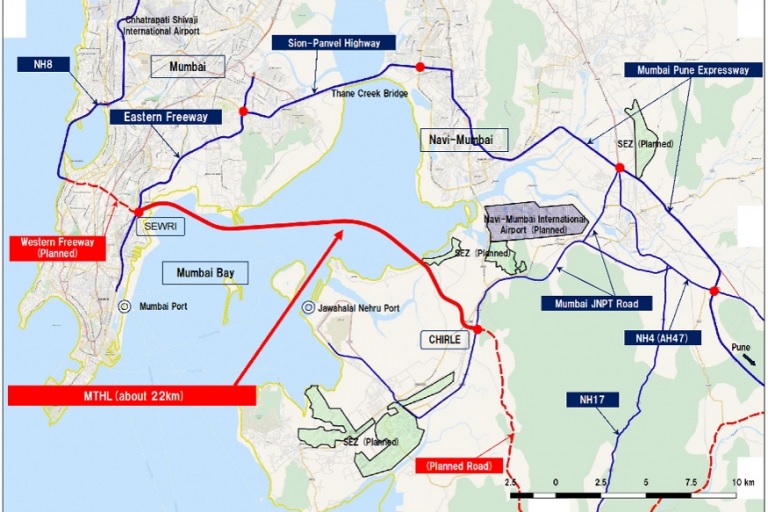 TATA Projects – Deawoo JV released the following map of MHTL in December 2017 with the bridge's 3 packages marked: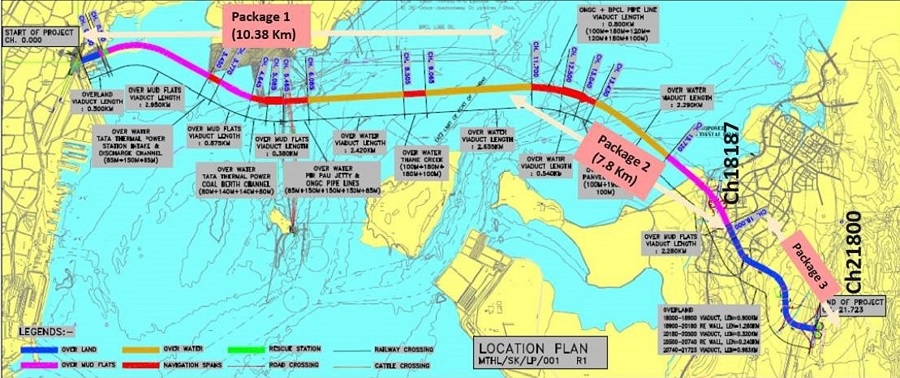 Current Status
As of December 2022, 91% of MTHL's construction work had been completed. The bridge is expected to be completed and opened in December 2023.
Tenders & Contractors
The project has been divided into 3 civil packages and 1 system package. MMRDA awarded civil construction contracts in November 2017 with a 54 month deadline.
| | |
| --- | --- |
| Package | Contractor |
| Package 1: Sewri up to marker 10.38 km (10.38 km) – inter-tidal and marine construction | Larsen and Toubro – IHI Corporation JV |
| Package 2: Marker 10.38-km up to step 18.187 km (7.807 km) – marine construction | Daewoo E&C – Tata Projects Limited JV |
| Package 3: 18.187-km to NH-4B at Chirle (3.613 km) – construction on land | Larsen and Toubro |
| Package 4: Intelligent Transport Systems (ITS) includes Toll and Transport Management System and Equipment Installation | STRABAG – EFKON India JV |
Page last updated: April 24, 2023. Have a question or spot an error? Let me know here.