Thiruvananthapuram Outer Ring Road – Information & Status
62.20 km Thiruvananthapuram Outer Ring Road (ORR) or Outer Area Growth Corridor (OAGC) project by NHAI is an approved 6 lane access-controlled highway around Thiruvananthapuram (Trivandrum), Kerala.
This 4 lane semi-circular greenfield expressway (NH-866) will connect National Highway NH-66 at Navaikulam with Vizhinjam Port under Capital Region Development Programme-II (CRDP-II). Construction work is expected to start in August 2023.
The highway project comprises of 2 sections or "rings", a 29.25 km Northern Ring (Navaikulam to Thekkada) and a 33.4 km Southern Ring (Thekkada to Vizhinjam) which also includes a 12.659 km expressway to connect Thekadda and Mangalapuram.
The project's pre-feasibility report (PFR) was prepared by L&T Infrastructure Engineering in May 2017. Its Detailed Project Report (DPR) was finalized and submitted to NHAI in September 2022 by Kerala Industrial and Technical Consultancy Organisation (KITCO).
Land acquisition for 348.09 hectares started in December 2022. The project's foundation stone has not yet been laid.
Total Estimated Cost: Rs. 4868 crore
Project's Total Length: 75.31 km
Lanes: 4 (expandable to 6)
ROW: 70m
Status: Land Acquisition & Bidding Underway
Deadline: N/A
Owner: National Highways Authority of India (NHAI)
Project Model: Engineering, Procurement, and Construction (EPC)
Route Map
A PDF route map will be added here when available.
The expressway's alignment will pass through 31 villages and connect Navaikulam, Kilimanoor, Thekkada, Ozhukupara, Vembayam, Mangalapuram, Pothencode, Nedumangad, Aruvikkara, Cheriyakonni, Chowalloor, Vilappilsala, Maranalloor, Ooruttambalam, Madavoorpara, Chavadinada, Venganoor, Kalluvettankuzhi and Vizhinjam.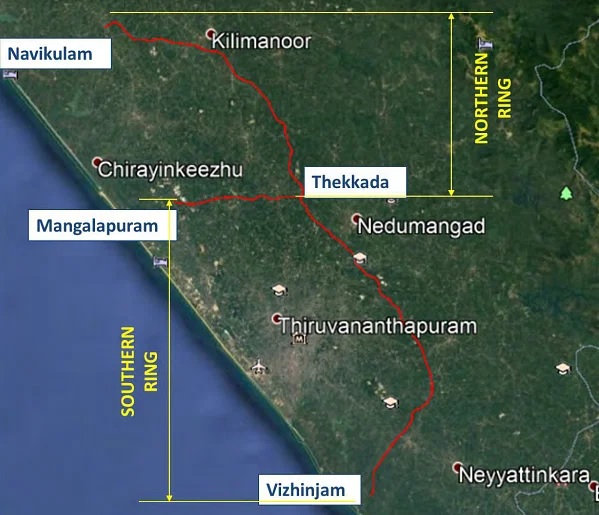 Tenders & Contractors
NHAI started inviting tenders (bids) for Thiruvananthapuram Outer Ring Road's construction works in February 2023 with a 2 year construction deadline.
| | |
| --- | --- |
| Package & Chainage | Status |
| Package 1 (29.25 km): Navaikulam to Thekkada (Ch- 0.450 to Ch-28.800) | Bidding Underway |
| Package 2 (33.40 km): Thekkada to Vizhinjam (Ch-28.800 to Ch-62.200) | Bidding Underway |
| Package 3: Details Awaited | N/A |
Page last updated: June 19, 2023. Have a question or spot an error? Let me know here.