Gorakhpur Link Expressway – Information & Status
91.35 km Gorakhpur Link Expressway project by UPEIDA is an under construction 4 lane access-controlled road with a route alignment connecting Jaitpur in Gorakhpur District with Purvanchal Expressway at Salarpur in Azamgarh District
This greenfield project was first announced in 2018 with land acquisition starting in February 2019. Construction work started in February 2020 by Apco Infratech and Dilip Buildcon with a 36 month deadline. The project has a right-of-way (ROW) of 110 meters.
Total Estimated Cost: Rs. 5876.67 crore
Project's Total Length: 91.352 km
Lanes: 4 (expandable to 6)
Status: Under Construction
Deadline: March 2022
Owner: Uttar Pradesh Expressways Industrial Development Authority (UPEIDA)
Project Model: EPC (Engineering, Procurement and Construction)
Current Status – July 2021
The expressway is planned to be opened by March 2022. As of May 24, 2021, the project had achieved 25% overall progress.
Earthwork in Main Carriageway: 50%
C&G in Main Carriageway: 98%
Video: February 2021 Status of Package 1
Route Map
The expressway's southern terminal is at Salarpur (District Azamgarh) on the Purvanchal Expressway. From there it connects the districts of Azamgarh, Ambedkar Nagar, Sant Kabir Nagar, and Gorakhpur. Along the way, it passes over Ghaghara River.
The following not-so-pretty map from UPEIDA's website shows the start and end points of the expressway. You'll be better off following its alignment on Google Maps here.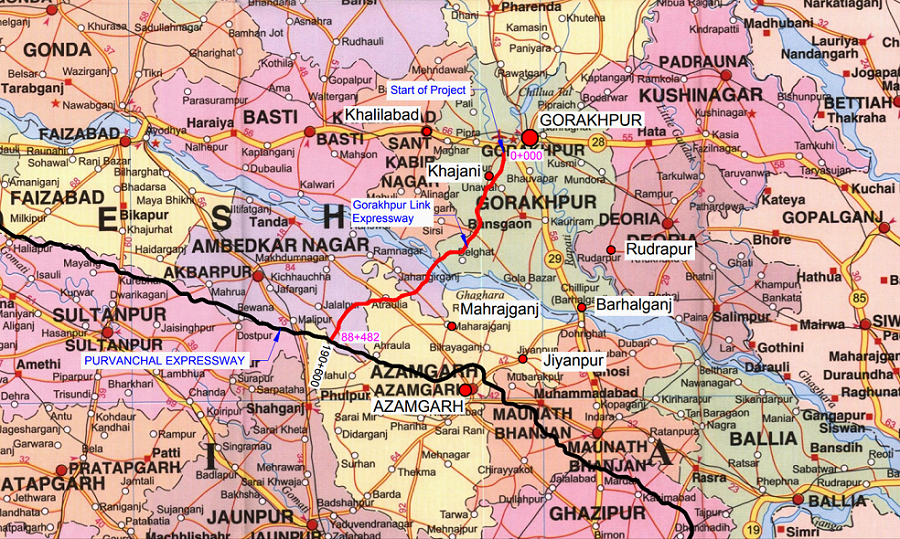 An official PDF route map of Gorakhpur Link Road will be added here when available.
Tenders & Contractors
The project has been divided into 2 civil packages with a 36 month deadline.
| | |
| --- | --- |
| Package & Chainage | Contractor |
| Package 1: Jaitpur (Dist. Gorakhpur) to Fulwariya (Dist. Ambedkar Nagar) [Km -0+817 to Km 47+500] | Apco Infratech |
| Package 2: Fulwariya (Dist. Ambedkar Nagar) to Salarpur (Dist. Azamgarh) [Km 47+500 to Km 90.535] | Dilip Buildcon |
Page last updated: July 10, 2021. Have a question or spot an error? Let me know here.
UPEIDA Project Menu: Purvanchal Expressway | Bundelkhand Expressway | Gorakhpur Link Expressway | Ganga Expressway