Veer Savarkar Airport New Terminal – Design & Status
Veer Savarkar International Airport in Port Blair, Andaman and Nicobar Islands, is being developed by the Airports Authority of India (AAI) with a multi-phase master plan to ultimately handle 5 million passengers per annum in the future.
The airport's new terminal 2 is under construction by Shapoorji Pallonji & Company since 2017 after the original contractor, Era Infra Engineering, was removed in 2016 due to slow progress.
The new Terminal 2 is expected to be completed and opened in August 2023 (current deadline).
Terminal 2's Built Area: 40,837sqm
Estimated Cost: Rs. 707.7 crore
Current Deadline: August 2023
Owner & Operator: Airports Authority of India (AAI)
Civil Construction Contractor: Shapoorji Pallonji & Company (SP)
Design & Master Plan
The terminal design is inspired by nature and features a shell-shaped structure to represent the ocean and islands. The steel-framed building will have a large span of 240m, which is divided into two 120m columnless spans, supported by periphery steel columns.
The terminal building will also feature a curved shape cable net glazing. The terminal roof will be installed with an antiglare membrane and an aluminium sheet covering to avoid penetration of direct sunlight.
The new terminal will include 28 check-in counters, four aerobridges, six elevators, seven escalators, and three passenger boarding bridges. It will also include four conveyor belts, including two for domestic passengers and two for international passengers, with an in-line scan system, apart from 367 parking spaces for buses, taxis, and cars.
The terminal is expected to handle 1,200 passengers, including 600 domestic and 600 international passengers during peak hours. The development also includes the construction of a new 120m x 225m apron, which will provide four additional bays to accommodate type D aircraft.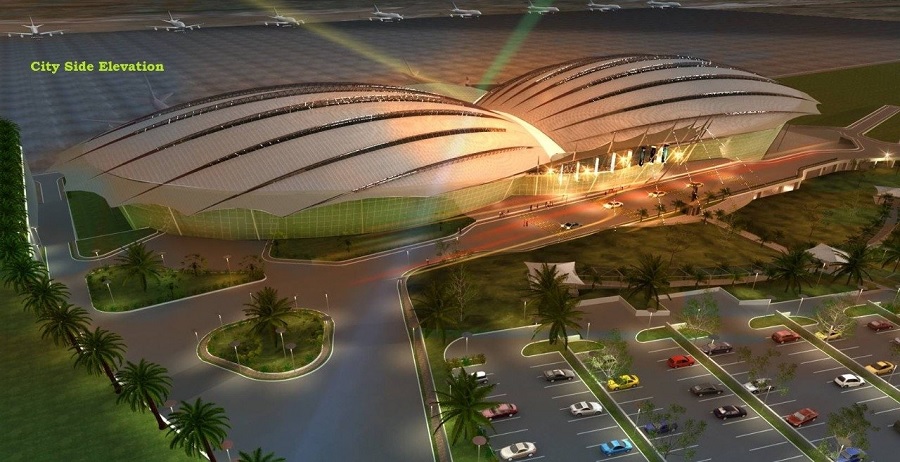 Current Status & Tenders
More than 80% of construction work on the new Terminal 2 has been completed. Terminal 2 is expected to be completed and opened in August 2023 (current deadline).
Here's a video by INT Enterprises on YouTube that shows latest progress:
Page last updated: June 19, 2023. Have a question or spot an error? Let me know here.