Rajkot Hirasar Airport – Status, Master Plan & Design
New Rajkot International Airport is a greenfield airport under construction at Hirasar Village, Gujarat by Airports Authority of India (AAI).
This new airport is expected to start commercial operations by 2023-end. It's being developed in 2 stages – Phase 1 (airport site & runway construction) and Phase 2 (passenger terminal & apron).
Area: 1025 hectares
Estimated Cost: 2654 crore
Deadline: 2023-end
Owner & Operator: Airports Authority of India (AAI)
Architect:  Creative Group Architects
Civil Construction Contractor (Phase 1 – Runway): Dilip Buildcon Ltd. (DBL)
Civil Construction Contractor (Phase 2 – Terminal Building): Yashnand Engineers & Contractors (see details)
Project Management Consultant:  Synergy Property Development Services
Current Status
Video by a local YouTuber in August 2021:
Location & Access
The new airport in Gujarat's Hirasar village is located 25 km north-east of Rajkot – view on Google Maps
Master Plan
Terminal Design
Rajkot Airport's terminal was designed by Delhi-based Creative Group Architects.
The terminal's design depicts various art forms from local Lippan art to dandiya dance through its external façade and interior design. This includes stone jalis, semi circular arches, pointed arches, horizontal lovers for reducing heat in interiors and vertical jalis to reduce heat intake.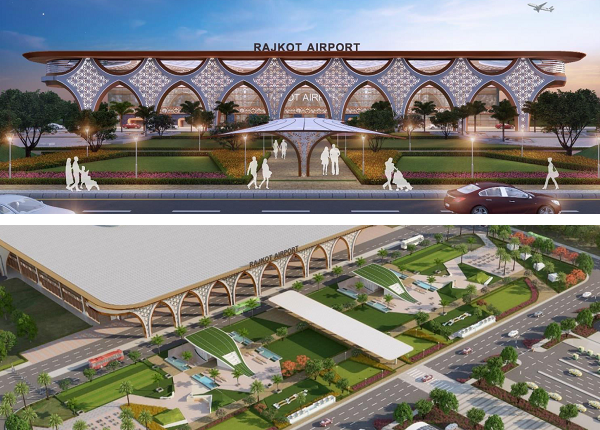 View more design renderings here.
Page last updated: August 31, 2022. Have a question or spot an error? Let me know here