Panvel | Navi Mumbai International Airport – Status, Master Plan & Design
Navi Mumbai International Airport at Panvel & Ulwe, Maharashtra is being developed by the Adani Group-led Navi Mumbai International Airport Limited (NMIAL) with a 4 phase master plan to handle over 60 million passengers per annum in the future.
Navi Mumbai Airport is expected to be opened and inaugurated in August 2024.
Area: 1,160 hectares
Estimated Cost: Rs. 16,700 crore
Deadline: 2024 (Phase 1 opening / start of operations)
Nodal Agency: CIDCO (City and Industrial Development Corporation)
Operator: Navi Mumbai International Airport Limited (NMIAL)
Architect: Zaha Hadid Architects (ZHA)
Civil Construction Contractor: Larsen & Toubro
Detailed Design Consultant (DDC): L&T Infrastructure Engineering
This greenfield project has been in the works since the 1990s and became necessary in early 2000s when it was estimated that the current airport, Chhatrapati Shivaji Maharaj International Airport (CSMIA), would outpace its capacity of 55 million passengers annually by 2010.
An aerocity with a commercial and residential district on its southern side is planned be built on 300 hectares. Detailed planning for it has not started.
Current Status
A consortium led by GVK Airport Developers Ltd won the bid to develop the Navi Mumbai International Airport in February 2017. GVK owned 74%, CIDCO 13% and Airports Authority of India (AAI) 13%. In September 2020, Adani Group bought out GVK's stake and in early 2021 was in advanced talks with Qatar Investment Authority (QIA) to sell a minority stake.
India's Prime Minister Narendra Modi laid the airport's foundation stone of the long overdue airport project on February 18, 2018. As of early-2021, site preparation involving hill leveling and diversion works for Ulwe River are underway.
Video by Droneman on YouTube shot in February 2023:
Location & Access
The project's site (view on Google Maps) is located east of Mumbai city in Raigad District. The airport will be linked to the existing Chhatrapati Shivaji Maharaj International Airport via an express metro line and possibly have a station on the 767 km Mumbai – Hyderabad High Speed Rail (Bullet Train) project.
In addition, the airport will be linked to Mumbai through the 21.80 km 6-lane Mumbai Trans Harbour Link (MTHL) project which is under construction by Larsen & Toubro – IHI Consortium and Tata Projects Ltd. – Daewoo E&C
Master Plan
Navi Mumbai International Airport facility will be capable of handling 10 million passengers a year upon completion of the first phase, 25 million passengers a year in the second phase, and finally, 60 million passengers a year by 2032 with two 3700m x 60m runways.
Phase 1's terminal building (likely for low cost carriers), and accompanying runway, represents the first phase of a strategy which will see the construction of two runways, handling 80 flights per hour.
Larsen & Toubro was awarded its Phase 1's construction contract in August 2019. This includes cut and fill works, terminal construction work including departure and arrival forecourts, airfield development works that include a 3,700-metre-long runway, apron systems, taxiway systems, airfield ground lighting and other facilities, landside facilities covering roads, multilevel car parking, utilities and support facilities.
Final Master Plan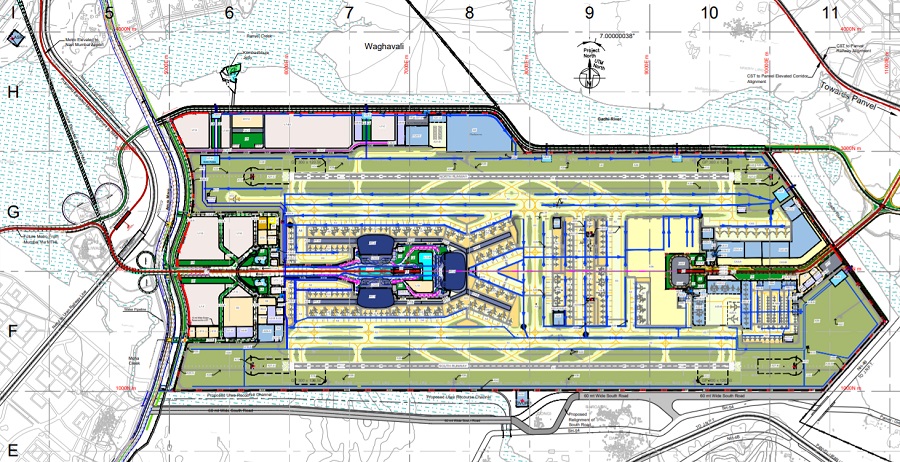 Design & Architecture
In March 2014, Navi Mumbai International Airport Limited (NMIAL) announced the appointment of Zaha Hadid Architects (ZHA) to design the airport's Terminal 1 and Air Traffic Control (ATC) Tower.
Detailed design renderings have not been revealed. Check back later!
In June 2021, GVK released a video of the project's old design:
Page last updated: June 19, 2023. Have a question or spot an error? Let me know here.