Okha–Beyt Dwarka Signature Bridge – Information & Updates
2320m long Okha–Beyt Dwarka Signature Bridge is an under construction cable-stayed bridge connecting Beyt Dwarka island in the Gulf of Kutch and Okha on Gujarat's mainland.
The bridge is under construction by SP Singla Construction (SPSC) with an estimated cost of Rs 962.43 crore. Construction work started in October 2017 with a 36 month deadline.
Okha–Beyt Dwarka Bridge will be completed and opened in August 2023 (current deadline).
Design
Okha–Beyt Dwarka Bridge with a length of 2320m will consist of a 27.2m wide deck with two carriageways. These will support 2 vehicular lanes and a 2.5m pedestrian walkway on either side with a 1MW solar mounted roof to provide shade. Its pylons will reach a height of 150m.
The bridge with 3 spans will have a 900m long central cable section and a 500m long middle span. The approach roads will be 209m long at Okha and 1101m long at Beyt Dwarka, making the entire project 3.73 km long.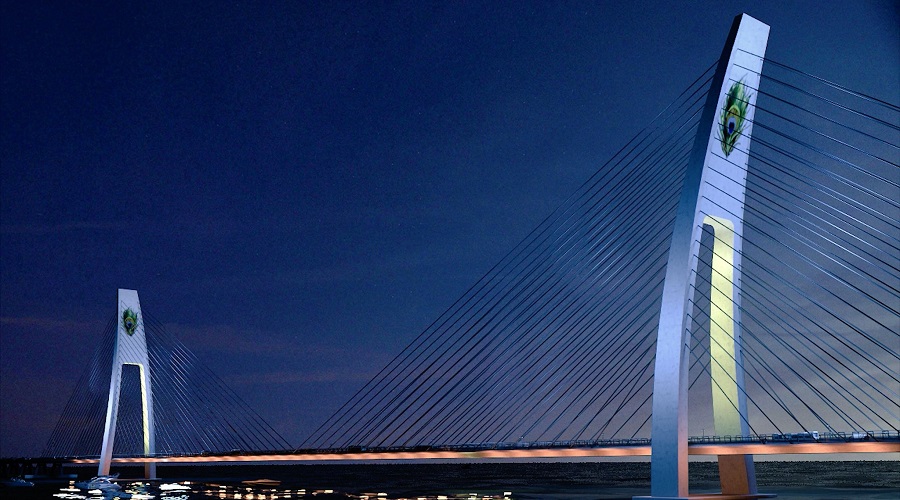 Status Update
Here's a recent video by HDG Creation on YouTube
Page last updated: September 22, 2023. Have a question or spot an error? Let me know here.