Dholera International Airport – Status, Master Plan & Design
Dholera International Airport at Navagam village near Ahmedabad, Gujarat is being developed by the Airports Authority of India (AAI) with a multi-phase master plan to ultimately handle 50 million passengers per annum in the future.
The greenfield airport is being developed in Saurashtra within the Dholera Special Investment Region (DSIR) as part of the Delhi Mumbai Industrial Corridor (DMIC). The airport will feature an aerocity with 75 hectares for commercial developments, cargo facilities and ultimately two runways – 3200 m and 4000 m long.
Dholera Airport's Phase 1 is expected to be completed and opened in March 2026 (current deadline).
Area: 1426 hectares
Estimated Cost: Rs. 1,378 crore (Phase 1)
Nodal Agency: Dholera International Airport Company Ltd. (DIACL)
Owner & Operator: Airports Authority of India (AAI)
Architect: Unknown
Civil Construction Contractor: Yet to be Appointed
Current Status & Tenders
In January 2020, RITES emerged as the lowest bidder among 8 firms for its Engineering Consultancy contract.
In February 2021, AAI invited tenders for the construction of the airport's infrastructure including runway, taxiways, aprons, perimeter road etc with an estimate of Rs 987 crore. Technical bids were opened in early June and saw 17 bidders participate. In June-end, Varaha Infra emerged as the lowest bidder for its construction work.
Contract: AAI/CHQ/ENGG/DHOLERA/PH-I/RWY
Scope: Development of New Greenfield Airport at Dholera, Ahmedabad (Gujarat). Phase-1. Detailed Designing, EPC of Airport infrastructure of operational area for 4E category operation of Airport i.e. Runway, Taxiway Apron, Perimeter Road etc., including associated Electrical works.
Location & Access
The project's site (view on Google Maps) is located north of Dholera Smart City & Bhavanagar, and south of Ahmedabad city. The site is accessible via NH-751 highway. In the future, Dholera Airport will be connected to Ahmedabad through the under construction 109 km Ahmedabad – Dholera Expressway and a semi high speed rail line. A monorail line has been planned, but will likely not be constructed.
Master Plan
Dholera International Airport will be capable of handling 1.5 million passengers per year after the completion of its Phase 1 in 2026 and 50 million passengers per year after its final phase.
The final design of Phase 1's terminal building has not been finalized. A tender notice for it is currently pending. Here's the layout of the airport's infrastructure and apron area: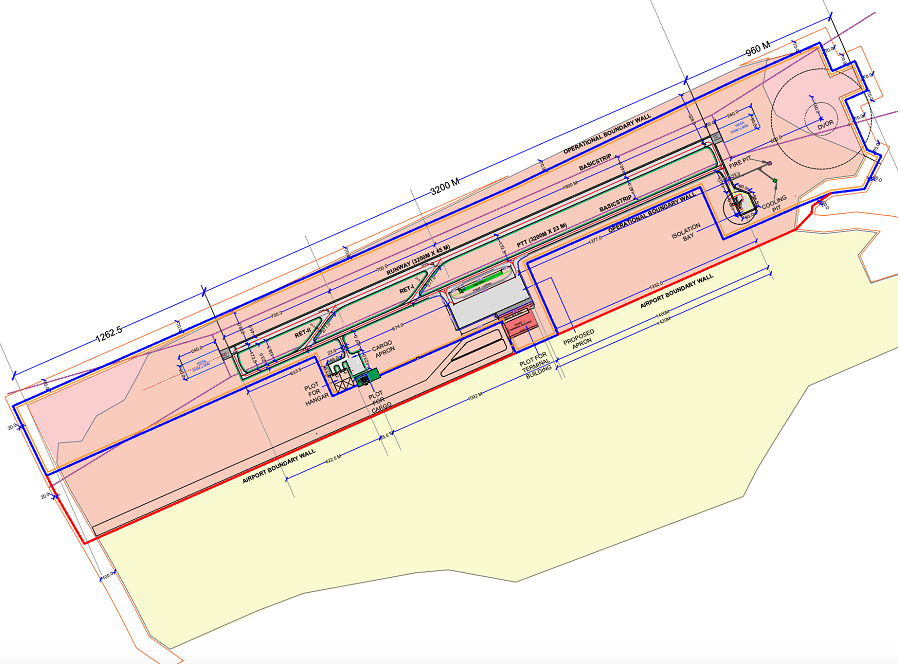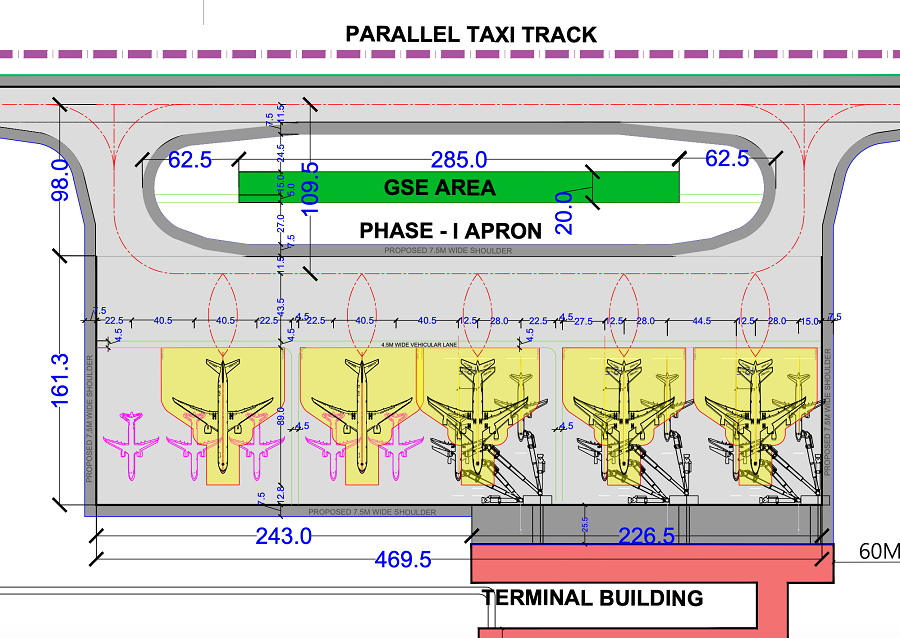 Design & Architecture
Here a few design renderings of Dholera Airport's terminal via AAI's tender documents: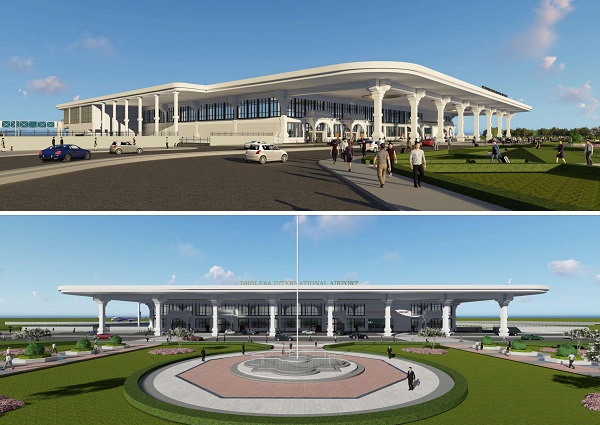 Page last updated: November 7, 2023. Have a question or spot an error? Let me know here.