Chittoor – Thatchur Expressway – Information & Status
116.1 km Chittoor – Thatchur Expressway (NH-716B) by NHAI is an under construction 6 lane access-controlled corridor with a route alignment connecting Keenatampalli near Chittoor (Andhra Pradesh) with Thatchoor – near Ponneri & Ennore (Tamil Nadu).
This greenfield highway will link the 262 km Bangalore – Chennai Expressway near Chittoor (KM 152) with the 133 km Chennai Peripheral Ring Road (CPRR project) at Kannigaipair with which 10.45 km will overlap – taking the overall project length to 126.550 km.
The project was approved for construction under the Bharatmala Pariyojana Phase 1 program and its Detailed Project Report (DPR) was prepared by Louis Berger Group Inc.
Total Estimated Cost: Rs. 3,197.56 crore
Total Length: 116.10 km
Lanes: 6
Status: Under Construction and Land Acquisition
Land Required: 885.5 hectares (525 ha. in Andhra Pradesh & 360.5 in Tamil Nadu)
Deadline: December 2024
Owner: National Highways Authority of India (NHAI)
Project Model: Hybrid Annuity Mode (HAM)
Design
The expressway is designed with a 70m ROW (right of way) and speed limit of 100 kmph. It feature 10 major bridges, 33 minor bridges, 2 Rail Overbridges, 252 culverts, 79 vehicular underpasses, 8 interchanges, and animal crossings to minimize human-animal interaction.
Route Map
The expressway will pass through Chittoor district in Andhra Pradesh and Thiruvallur district of Tamil Nadu to provide direct connectivity to Kamarajar (Ennore) and Kattupalli ports.
The expressway crosses river Ponnai at km 14.5, Nagari River at km 65.70 and Aranai river at 2 locations: km 100.20 and 109.00.
The following not-so-pretty map from the government's environment clearance site displays its route in red color. An official PDF route map will be added here when available. The Bangalore – Chennai Expressway is visible in green and the Chennai Peripheral Ring Road in Purple.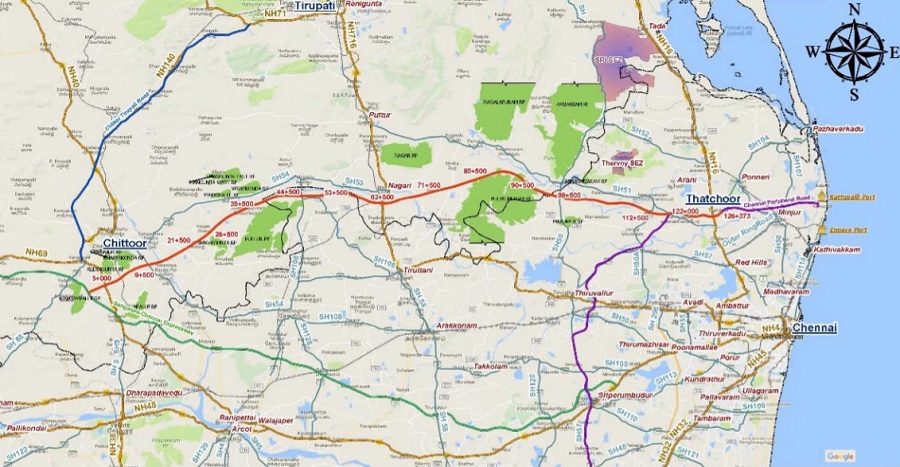 Tenders & Contractors
Chittoor – Thatchur Expressway has been divided into 4 civil packages with a 4 year deadline.
Page last updated: June 19, 2023. Have a question or spot an error? Let me know here.