September 27 Update: IRB Infrastructure Developers has been awarded Package 4 of Chittoor – Thatchur Expressway with a value of Rs 909 crore.
Original Post: 9 construction firms have submitted bids to construct Package 4 of the 116.1 km Chittoor – Thatchur Expressway (NH-716B), after the National Highways Authority of India (NHAI) opened technical bids for its retender on Tuesday.
This 20.060 km 6 lane section connecting Pondavakkam with Kannigaipair is at the extreme eastern end of the project which will link the 262 km Bangalore – Chennai Expressway near Chittoor with the 133 km Chennai Peripheral Ring Road (CPRR project). This will allow allow for direct connectivity to Kamarajar (Ennore) and Kattupalli ports and also give travelers from Bengaluru another route option at Chittoor to travel to North Chennai.
NHAI originally invited tenders for Package 4 in January 2021 with a 4 year deadline. PSK Infrastructures & Projects emerged as its lowest bidder in April, but the tendering process was cancelled as their bid was 24% higher than NHAI's estimate. Bids for it retender were invited shortly after.
Bidders:
Adani Road Transport
Aurobindo Realty and Infrastructure
BVSR Constructions
DRA Infracon
DP Jain and Company
IRB Infrastructure Developers
KNR Constructions
NSPR Constructions
PSK Infrastructures and Projects
Brief Scope: Development of Six laning of Chittoor-Thachur road from km. 96.040(Pondavakkam) to km. 116.100 (Kannigaipair) on Hybrid Annuity mode under Bharatmala priyojana, in Tamil Nadu (Package-IV)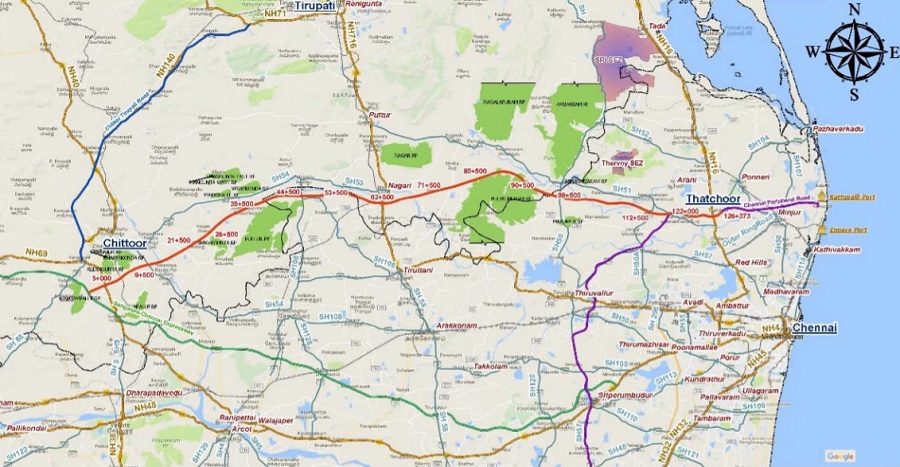 The bids have now been sent for technical bid evaluation which can take a couple months to complete. When that is done, the financial bids of the technically qualified bidders will be opened to reveal who's the lowest bidder and most likely contractor.
This expressway with 4 civil packages has been designed with a 70m ROW (right of way) and speed limit of 100 kmph. More design details and a list of its packages can be viewed here.
For more updates, check out the Expressways section or my Home Page!
– TMRG