September 27, 2021 Update: Tata Projects has been awarded Section 1's contract LOA.
February 5, Original Post: Tata Projects Limited (TPL) on Thursday emerged as the lowest bidder for constructing the 133.38 km Chennai Peripheral Ring Road's Section 1 after Tamil Nadu Road Development Company (TNRDC) opened financial bids.
The 25.31 km Section 1 of this new access controlled expressway, Chennai's 4th ring road, connects Ennore Port with NH16 (old NH5) at Thatchur. This is the northern-most package and the second shortest of 5 packages (more details at the bottom). It consists of a 6 lane divided carriageway with a 2 lane service road on both sides.
This section includes a 1.4-km bridge over Buckingham Canal. There will be 26 structures in the project, including eight major bridges, eight minor ones, two road-over-bridges, seven vehicle underpasses/vehicle overpasses and one interchange. It will also include 29.38 km of drains and 41.88 km of retaining wall.
TNRDC invited bids for this package in 2019 through a 40,074 million Yen (approx. Rs 2470 crore) loan assistance from Japan International Cooperation Agency (JICA) for which a formal agreement was signed in January 2020.
TNRDC's Estimate: Rs. 2500.00 crore
Financial Bid Values:
| | |
| --- | --- |
| Firm | Bid |
| Tata Projects | Rs. 2229.44 crore |
| Ashoka Buildcon | Rs. 2815.32 crore |
| GR Infra – Gawar JV | Rs. 2865.73 crore |
| PNC – SPSCPL JV | Rs. 2895.56 crore |
| Gayatri – YFC – SPL JV | Rs. 2917.37 crore |
| NCC | Rs. 3068.18 crore |
Contract: Package-1
Brief Scope: Package-1: Formation of Chennai Peripheral Ring Road Section-1 (Northern Port Access Road) connecting Ennore Port with Thatchur on NH-5 including spur link of extension of ORR with NPAR including ITS Component
This new road will connect Singaperumalkoil, Sriperumbudur, Tiruvallur, Tamaraipakkam, Periyapalayam, Puduvoyal and Kattupalli at an estimated cost of Rs 12,301 crore.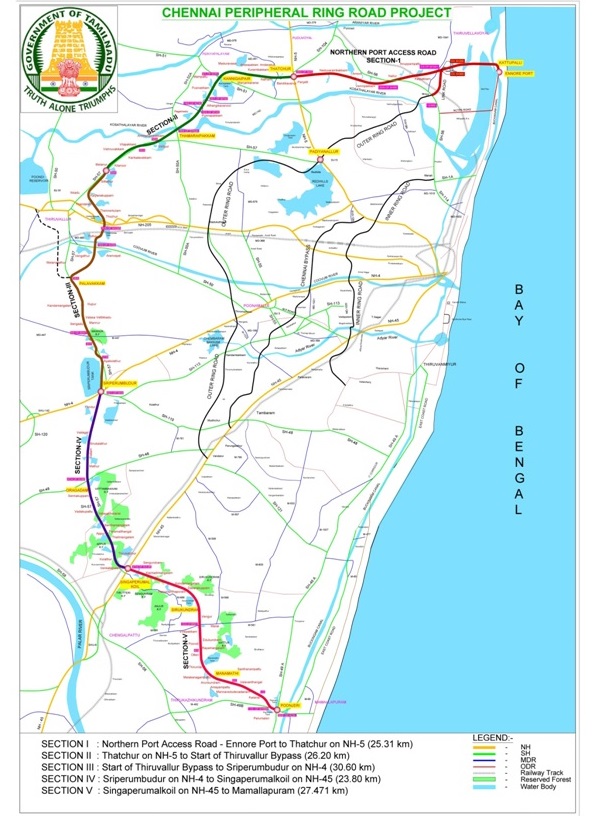 The project's Detailed Project Report (DPR) was created by STUP Consultants and can be viewed here. Bids for Sections 2 were invited in 2020 and bids for section 3 (besides section 5) are pending. Those two sections will be financed by Asian Infrastructure Investment Bank (AIIB) through a USD 378 million loan, and the bank's board held a concept review for it on March 13.
Tamil Nadu Road Development Corporation (TNRDC) is the executor of Package 1. The rest will be executed by Tamil Nadu Road Infrastructure and Development Corporation (TNRIDC).
Here's a status of all CPRR packages:
| | |
| --- | --- |
| Package | Status |
| Section 1: Ennore Port – Thatchur (25.31 km) | Financial Bids Opened (this post) |
| Section 2: Thatchur – Thurvallur Bypass (26.20 km) | Bids Invited Dec 31, 2020 |
| Section 3: Thiruvallur Bypass – Sriperumpudur (30.60 km) | Tender Notice Pending |
| Section 4: Sriperumpudur – Singaperumal Koil (23.80 km) | Constructed (may need to be upgraded) |
| Section 5: Singaperumal Koil – Poonjeri Junction (near ECR) (27.47 km, 4 lanes) | Tender Notice Pending |
In case you missed it, I started tracking miscellaneous big-ticket contracts earlier this year and this fits right in.
Update: I've created a new information page for Chennai Peripheral Ring Road with detailed information – check it out here.
For more updates, check out my Home Page!
– TMRG
Subscribe to Free Email Notifications