Jewar | Noida International Airport – Status, Master Plan & Design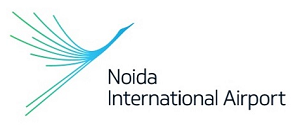 Noida International Airport at Jewar, Uttar Pradesh is being developed by Flughafen Zürich AG (Zurich Airport) south of Greater Noida with a 4 phase master plan to handle 60 million passengers per annum in the future.
Prime Minister Narendra Modi laid the foundation stone for Noida International Airport on November 25, 2021. The project's Phase 1 is expected to be completed and opened in March 2024.
The project's final phase envisions 2 runways and 4 passenger terminals – making it the largest airport in India.
Area: 1,334 hectares
Estimated Cost: Rs. 29,650 crore
Deadline: 2024 (Phase 1 opening / start of operations)
Owner: Noida International Airport Limited (NIAL)
Operator: Yamuna International Airport Private Limited (YIAPL) – 100% subsidiary of Zurich Airport International
Architects: Haptic Architects, Nordic, Grimshaw and STUP
Consultants: NACO – Netherlands Airport Consultants, Urban Systems Design, AKTII, SLA, COWI, Alan Thompson, Studio Fractal, AEON Consultants, T2 Consulting
Civil Construction Contractor: Tata Projects (TPL)
Current Status & News
Uttar Pradesh and Zurich Airport signed a 40 year concession agreement October 7, 2020 after the latter placed the highest bid of Rs. 400.97 per passenger beating Adani Enterprises, DIAL and Anchorage Infra (Fairfax) when financial bids were opened in November 2019.
Land acquisition for the project's second phase started in January 2021. Initial geotechnical and groundwater surveys were performed by Cengrs Geotechnica, and site preparation works (soil leveling) are currently underway.
In October 2021, Delhi Metro Rail Corporation (DMRC) began preparing a Detailed Project Report (DPR) for a new metro line linking Knowledge Park II and Jewar Airport.
In July 2022, APCO Infratech was declared as the lowest bidder to construct a 30 km 6-lane expressway from Noida Airport to the Delhi Mumbai Expressway.
Name & Location
Uttar Pradesh's Chief Minister in December 2020 approved the airport's design, name and logo as Noida International Airport. Earlier it was briefly referred to as 'Delhi Noida International Airport'. The brand logo is a symbol that shows a Sarus Crane – the state bird of UP – in flight.
The project's site (view on Google Maps) is located east of the Yamuna Expressway in Gautam Buddh District, about 70 km from Delhi's Indira Gandhi International (IGI) Airport. The airport will be linked to Greater Noida via a new metro line and have a station on the 886 km Delhi – Varanasi High Speed Rail (Bullet Train) project.
In addition, a 31 km road will be built by NHAI linking the airport with the under construction 1350 km Delhi – Mumbai Expressway (DMEx).In March 2021, an agreement to acquire land for its construction was reached between Haryana and UP's governments. In July 2022, NHAI received 12 bids for its construction.
Phase 1 Layout Plan
Noida International Airport's Phase 1 envisions a 90,000 Sqm Terminal 1 building, 4150 x 45 Code 'E' runway (Runway 10/28) fully supported by CAT III approach lighting and visual aids, parallel end to end taxiway, Air Traffic Control (ATC) building, cargo facility, commercial developments, metro & high speed rail stations, and other amenities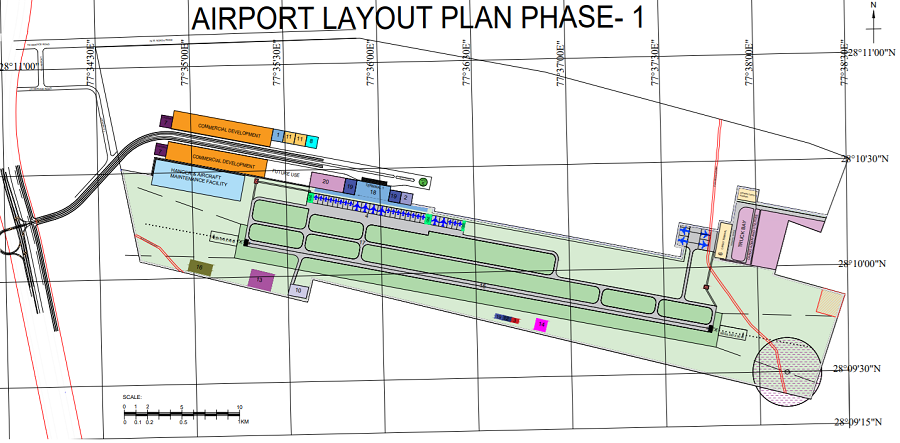 Phase 2 Layout Plan
Phase 2 envision a mirror development of Phase 1, with a new Terminal 2, new runway and parallel taxiway.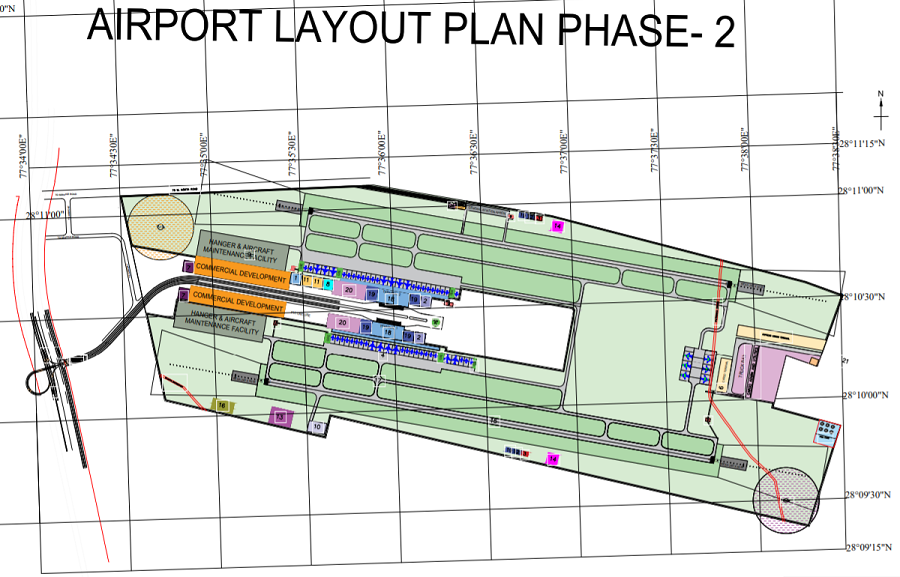 Phase 3 Layout Plan
Phase3 envisions, a new Terminal 3 over an area of 1,60,000 Sqm, new 2nd parallel taxiway conforming to Code F CAT III operations, 3 rapid exit taxiways and apron expansion with 37 additional bays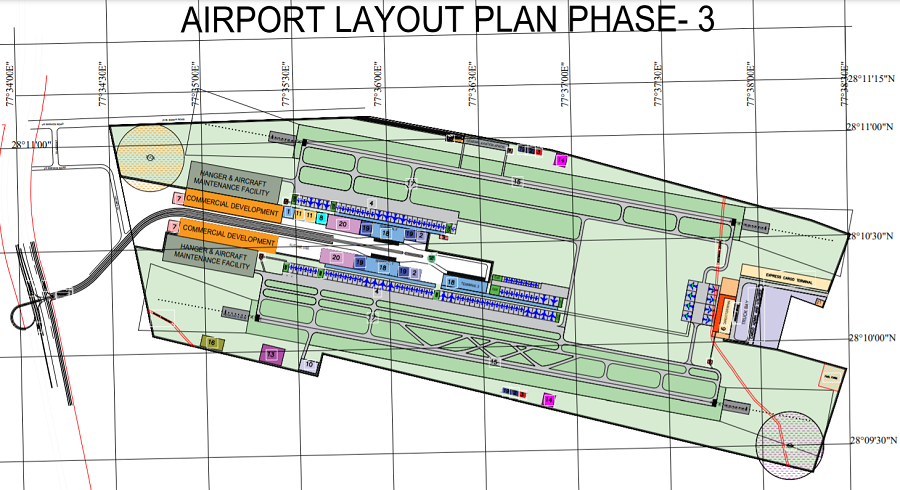 Phase 4 Master Plan
The airport's final phase envisions a new Terminal 4 with an area of 1,60,000 Sqm, expansion of cargo terminal to 1,50,000 Sqm, apron expanion for 25 additional bays, 3 rapid exit taxiways in the northern runway and a 2nd parallel taxiway conforming to Code F CAT III operations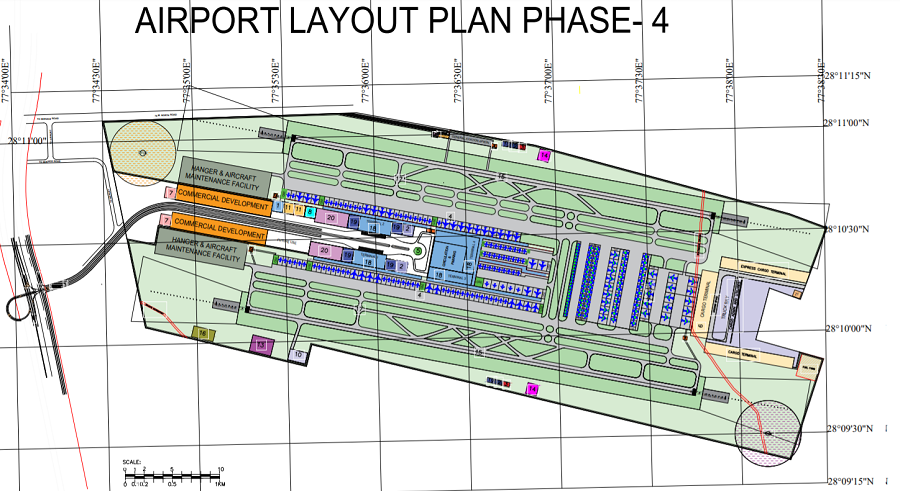 Design & Architecture
Haptic Architects, Nordic, Grimshaw and STUP were selected by Zurich Airport as the winning design, beating Gensler-Arup, and SOM-Mott MacDonald. The finalized layout and carbon-neutral design of Terminal 1 was unveiled in December 2020. Below images are courtesy of Grimshaw.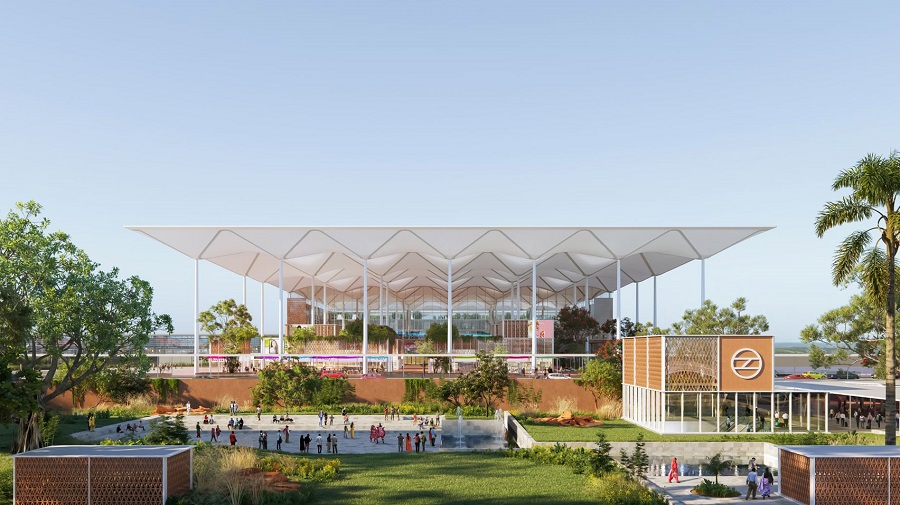 Per Haptic Architects, the design merges Swiss efficiency and Indian hospitality, as it provides a seamless passenger experience and sets new benchmarks in sustainability for airport terminal buildings in India. The airport aspires to serve as a local and regional hub while meeting passengers' international standards.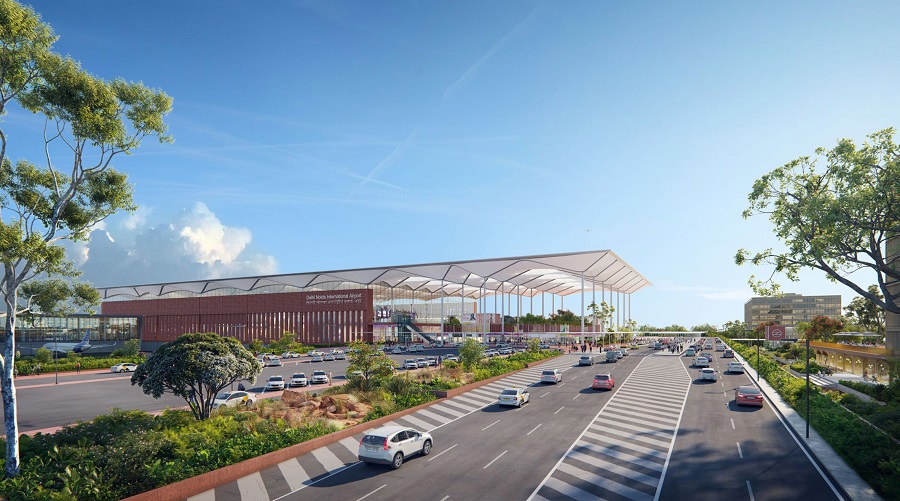 Green spaces inside and around the building represent a new paradigm of a future airport city and offer flexible expansion options allowing the airport to grow in the future.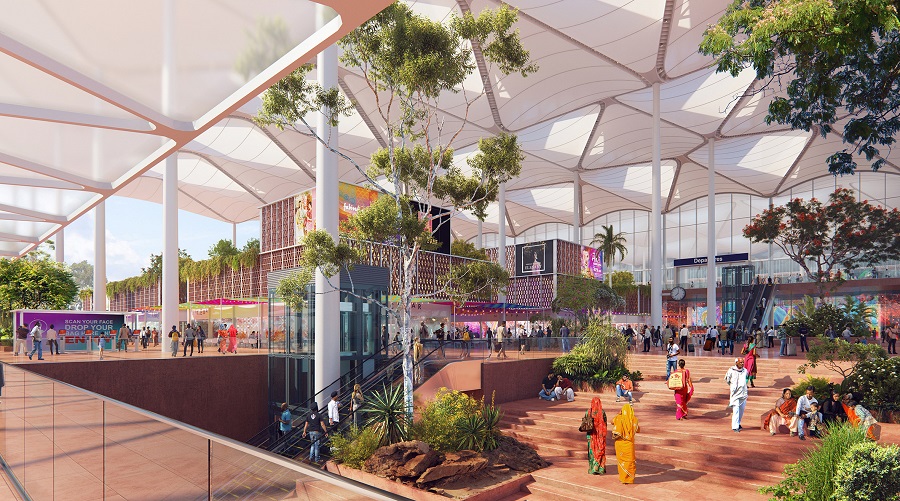 Design proposals include an internal landscaped courtyard deep within the terminal plan delivering ventilation, daylight, and an enhanced passenger experience. Externally, a new landscaped forecourt will create a regional destination for the public, staff and passengers with an unforgettable sense of place.
Page last updated: June 19, 2023. Have a question or spot an error? Let me know here.