Delhi Metro Rail Corporation (DMRC) in mid-October invited tenders for geotechnical investigation works along Yamuna Expressway to aid in the construction of a new metro line connecting Greater Noida's Knowledge Park II and Jewar Airport.
This development comes after Yamuna Expressway Industrial Development Authority (YEIDA) and DMRC signed a Memorandum of Understanding in September to prepare the line's Detailed Project Report.
This new line is expected to be approximately 35 km long featuring local and semi high-speed services. It'll run on a primarily elevated route with a short 2-4 km shallow underground section inside Jewar Airport's site which I expect would be built using the cut and cover method.
This geotechnical investigation work is a low value contract estimated by DMRC at Rs. 14.75 lakh with a 10 week completion period. Technical bids were opened on November 1 to reveal 4 bidders:
Cengrs Geotechnica Pvt Ltd.
DBM Geotechnics and Constructions Pvt. Ltd.
Sai Geotechnical Engineers Pvt. Ltd.
Techpro Engineers Pvt Ltd.
Tender: NIT/02/GM/CS/2021-22
Brief Scope: GEOTECHNICAL Investigation Work for preparation of DPR for Metro Corridor from Greater Noida KP-II to NIA
Schedule of Deliverables from Tender:
Inception Report: 10 days from the date of award of work
Completion of field work and submission of bore log details: 6 weeks from the date of award of work
Submission of final report: 10 weeks from the date of award of work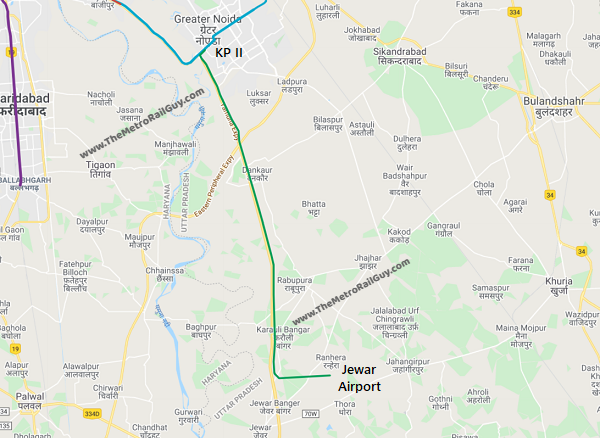 Officially known as Noida International Airport, this greenfield project is being developed by Flughafen Zürich AG (Zurich Airport) with a 4 phase master plan to handle 60 million passengers per annum in the future. The project's final phase envisions 2 runways and 4 terminals – see project details & design on this dedicated info page.
In the past, metro stations on this line were planned at the following locations but we'll have to wait and see what the DPR suggests:
Greater Noida's Knowledge Park-II, Chi-I, Chi-II, Chi-III, Chi-IV, Gautam Budh University, Night Safari, Murshadpur, Yamuna Authority's Sector 26A, Noida International University, Galgotia University, Sector 17A, Sports City, Sector 22A, Sector 22B, Sector 18A, Sector 22C, Sector 19, Sector 2, Sector 20, Sector 21, Sector 28, Sector 29, Nagla Hukum Singh and Jewar Airport
Scope of Geotechnical Work
Drilling of 150 mm diameter boreholes in all types of soils upto 30 m depth.
Conducting Standard Penetration Tests in boreholes at regular intervals of 1.5m as per I.S. Code of practice and also in-situ tests as per Schedule.
Collecting undisturbed soil samples from bore holes at every change of strata subject to a minimum of two per borehole as per I.S. Code of practice.
Recording of water table level in the boreholes after completion of boring.
Drilling bore holes upto a maximum depth of 5 metres in intact Hard Rock (RQD >50%) or 10 m in weathered rock (RQD upto 50%) or 30 metres in soil (upto N=100) using hydraulic / calyx rig by wash boring method as per the directions of Engineer-in-charge and as detailed in Technical Specifications and Schedule.
Conducting in-situ permeability tests in Rocky strata and tests in labs in all other types of soils.
Collecting rock core samples from bore holes and recording the RQD.
Conduct all necessary laboratory tests on samples collected as per Schedule and Technical Specifications.
Survey of bore holes for elevation and plotting of bore hole locations in alignment plan.
Preparation of report summarizing the details of soil / rock classifications, analysis of test data and recommending the type of foundations to be adopted with design calculations for the proposed Elevated corridor duly highlighting the design criteria and design methodology and different groups of soil strata encountered.
The results from this contract's investigation and other local survey/field-work will go into preparing the first draft of this line's DPR which I expect would get ready in mid-2022 for dissemination and feedback from YEIDA's board members and other local stakeholders. There's a long way to go for the project to be finalized, but this is an encouraging start.
For more updates, check out the Delhi Metro section or my Home Page!
– TMRG