Bhogapuram International Airport – Status, Master Plan & Design
Bhogapuram International Airport in Andhra Pradesh is being developed by GMR Airports Ltd. through its subsidiary GMR Visakhapatnam International Airport Ltd. (GVIAL) with a three phase master plan to ultimately handle 18 passengers per annum (MPPA).
Bhogapuram Airport's foundation stone for construction was laid on May 3, 2023 and a Bhoomi Pujan was held on November 1, 2023.
This new greenfield airport is estimated to cost Rs. 4592 crore and located 60 km north of Visakhapatnam (Vizag) on a 2203 acre site. It will initially be developed with a capacity to handle 6 MPPA (million passengers per annum) and have an ultimate capacity of 18 MPPA.
In 2019, GVIAL was awarded a contract to design, finance, operate & maintain Bhogapuram Airport for 40 years, extendable by additional 20 years.
In November 2023, Larsen & Toubro was awarded the civil construction contract for the airport's construction for an undisclosed value ranging between Rs. 2500 – 5000 crore. Their scope of work includes construction of a terminal building, 3800m runway, apron, taxiways and other miscellaneous airport systems and landside facilities.
Area: 2203 acres
Estimated Cost: Rs. 4,592 crore
Deadline: 2026 (Phase 1 opening / start of operations)
Concessionaire: GMR Visakhapatnam International Airport Ltd.
Architect: Unknown
Civil Construction Contractor: Larsen & Toubro
The airport's site is located right next to the coastline (view on Google Maps). Basic site development work around the airport's perimeter is currently underway (view pics).
Design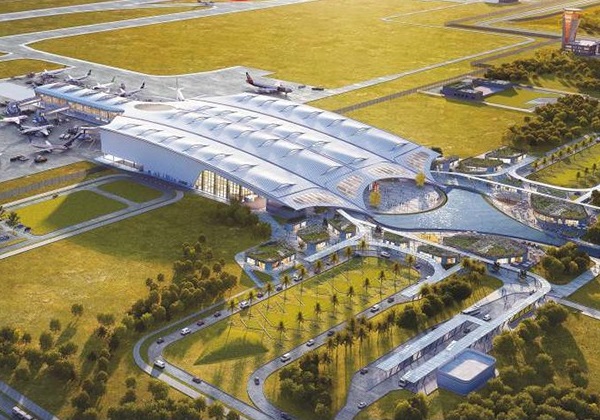 Here's a concept video on YouTube which shows how GVIAL plans to expand the terminal building in Phase 2:
Page last updated: December 5, 2023. Have a question or spot an error? Let me know here.