Larsen & Toubro on Monday announced it was awarded the civil construction contract for Bhogapuram International Airport in Andhra Pradesh by GMR Visakhapatnam International Airport Ltd. (GVIAL) for an undisclosed value ranging between Rs. 2500 – 5000 crore.
This new greenfield airport is estimated to cost Rs. 4592 crore and located 60 km north of Visakhapatnam (Vizag) on a 2203 acre site. It will initially be developed with a capacity to handle 6 MPPA (million passengers per annum) and have an ultimate capacity of 18 MPPA.
The project's foundation stone was laid for the second time on May 3, 2023 and a Bhoomi Pujan for construction was held on November 1, 2023.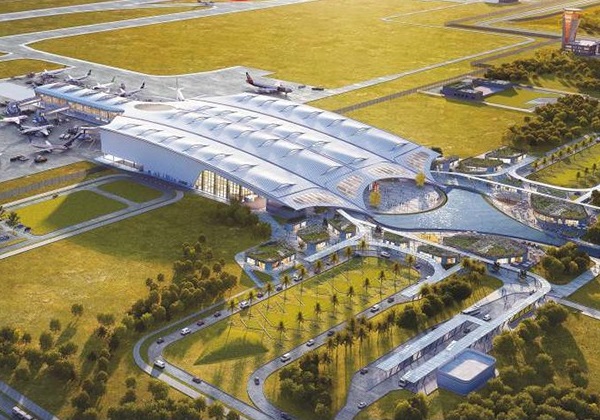 The airport's Engineering, Procurement and Construction (EPC) contract was won by L&T's Buildings & Factories and Transportation Infrastructure businesses after a non-public (internal) round of bidding.
If someone reading this is aware of all the bidders that participated and their bid values, then leave a comment below or shoot me a message via the Contact page. I'd like to add it in here for everyone's awareness.
Per L&T's press release, development works includes cut & fill works, terminal works with airports systems, ATC tower, airfield development works (South Runway 3800m Length, Apron, Taxiways, Airfield Ground Lighting, Fuel Hydrant works & other facilities), landside facilities (roads, landscapes, etc.), utilities & other support facilities.
The airport's site is located right next to the coastline (view on Google Maps). Basic site development work around the airport's perimeter is currently underway (view pics).
The airport's concessionaire, GVIAL, in 2019 was awarded the contract to design, finance, operate & maintain Bhogapuram Airport for 40 years, extendable by additional 20 years by Andhra Pradesh Airports Development Corporation Limited (APADCL).
Here's a concept video on YouTube which shows how GVIAL plans to expand the terminal building in Phase 2:
I've created a new information page for the project (check it out here or in the menu bar under Misc. > New Airports) which I'll be updating as the project progresses.
For more updates, check out the Airports section or my Home Page! Sign up for free instant email notifications on new posts over here. Like this post? See how you can get early-access to updates and support the site over here.
– TMRG