Chennai Metro Phase 1 Extension – Information, Route Maps, Tenders & Updates
Menu: News & Construction Updates | Overview | Phase 1 Info | Phase 1 Extension Info | Phase 2 Info | Metrolite Project Info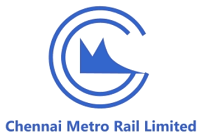 Chennai Metro's Phase 1 Extension project consists of a 9.051 km extension of the 23.1 km Blue Line, built in the 45.1 km Phase 1 project, northward from Washermanpet to Wimco Nagar through 8 stations. The project also consists of a new elevated depot with stabling yard at Wimco Nagar to service Blue Line trains.
The Phase 1 extension project was approved by Tamil Nadu's state cabinet in December 2015 and by India's Central Government in June 2016 with an estimated cost of Rs. 3770 crore. 60 percent of the project's civil procurement and procurement of systems, such as the 40 new coaches from Alstom, have been funded by the Japanese International Cooperation Agency (JICA).
Construction on this small phase's line started in 2016-end, trial runs in December 2020, and the CMRS inspected the line in February 2021.
CMRL's Original Phase 1 Extension Deadline: 2019-end
Start of Operations: February 14, 2021
Phase 1 Extension Funding
Government of India: Rs. 713 crore (19.99%)
Government of Tamil Nadu: Rs. 713 crore (19.99%)
Japanese International Cooperation Agency (JICA): Rs. 2141 crore (20.02%)
Phase 1 Extension Route
This phase involves the construction and extension of 1 line on standard gauge tracks. From Washermanpet, the Blue Line continues to run underground for 2.4 kms until Tondiarpet and then becomes elevated along Thiruvottiyur High Road to Wimco Nagar.
Line-1 (Blue Line): Washermanpet – Wimco Nagar
Length: 9.051 km
Status: Under Construction
Type: Underground (2.379 km) &

Elevated (6.672 km)

Depot:

Wimco Nagar (for trains on entire Blue Line)

Number of Stations: 9
Station Names: Sir Thiyagaraya College (underground), Tondiarpet (underground), New Washermenpet

(formerly Tondiarpet)

, Tollgate Metro, Kaladipet Metro

(formerly Thangal)

, Thiruvottriyur Theradi

(formerly Gowri Ashram)

, Thiruvottriyur Metro, Wimco Nagar Metro, Wimco Nagar Depot Station
Phase 1 Extension Route Map
The embedded map below shows the exact location of all stations and can be zoomed into!
An official PDF route map of Chennai Metro Phase 1 Extension will be added here when available.
Key for map below: Phase 1 | Phase 1 Extension | Phase 2
Video
Tenders
Chennai Metro (CMRL) Phase 1 Extension tenders can be viewed on the CMRL's website. News on these notices, their bidders and contracts are covered in further detail on the news & construction page.
List of Major Contractors
| | |
| --- | --- |
| Contract | Contractor |
| Phase 1 Extension's Detailed Design Consultant (DDC) | Systra MVA Consulting (India) Pvt. Ltd. |
| 40 Coaches (Rolling Stock) | Alstom India Ltd. |
| Electrification | Siemens |
| Signaling | Siemens |
| Track-work | Apurvakriti Infrastructure |
| UAA-08: Construction of Washermenpet to Korukkupet Tunnels, ramp & 6 cross-passages | Afcons Infrastructure |
| UAA-09: Construction of Sir Theagaraya College & Korukkupet Station | IL&FS – PJSC Kyivmetrobud JV (terminated in January 2020) |
| ECV-101: Construction of viaduct from Korukkupet Ramp to Thangal with 3 stations at Tondiarpet, Tollgate and Thangal (3.25 km) | Simplex Infrastructures Ltd. |
| ECV-102: Construction of viaduct from Thangal to Wimco Nagar with 3 stations at Gowri Ashram, Tiruvottiyur and Wimco Nagar | NCC Ltd. |
Click on 'News & Construction Updates' below for project news, progress and updates.
Menu: News & Construction Updates | Overview | Phase 1 Info | Phase 1 Extension Info | Phase 2 Info | Metrolite Project Info
Page last updated: April 24, 2022. Have a question or spot an error? Let me know here.