Chennai Metro Rail Ltd on March 5 announced via Facebook the delivery of the final of 10 new Alstom Metropolis train-sets for its 54 km Phase 1 project, procured primarily to sustain headways when the 9.051 km Phase 1 Extension project of the Blue Line, connecting Washmermenpet with Wimco Nagar, becomes operational later this year.
Chennai Metro currently operates 42 Metropolis train-sets (168 coaches), and the CMRL in March 2018 directly placed an order for an additional 40 new coaches with Alstom without inviting tenders (bids) as the original contract, signed in 2010, had an in-built option to order more coaches.
The coaches' procurement was financed by the Japan International Cooperation Agency (JICA). Their manufacturing commenced at Alstom's facility in Sri City, Andhra Pradesh in February 2019 (just 90 kms away), and the first train-set was delivered in October 2019.
Excerpt from CMRL's post –
The trains have undergone various tests and inspections such as carbody dimensional checks, water tightness check, static routine traction and brake tests, etc. which was witnessed and approved by CMRL. On arrival of the train sets, further tests such as slow speed and high speed routine tests at the Depot and mainline will be performed before deploying it to the passenger service.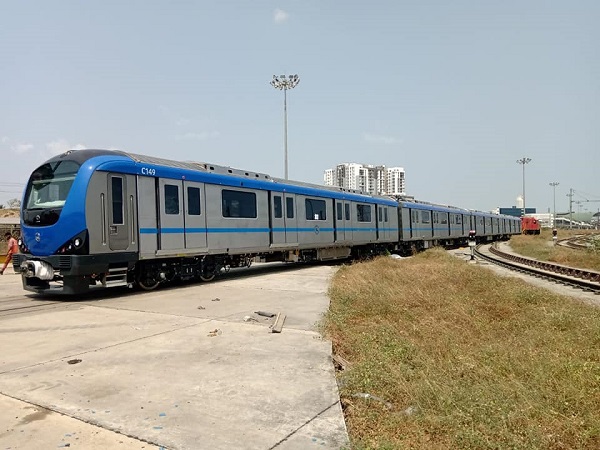 With this, Chennai now has 52 train-sets (208 coaches). A bulk of them are housed at the network's main Koyambedu Depot and an unknown number will in the future be stabled at the new Wimco Nagar Depot which will be equipped with 17 stabling lines to clean, wash and house trains overnight.
For more updates, check out the Chennai section of The Metro Rail Guy!
– TMRG