After terminating its Rs. 371 cr civil construction contract with IL&FS – PJSC Kyivmetrobud JV due to poor progress, the Chennai Metro Rail Ltd. (CMRL) on February 14 invited bids from construction firms for completing the remaining (balance) works of the underground Sir Theagaraya College and Korukkupet stations on the 9.051 km northern extension of Chennai Metro's 23.1 km Blue Line to Wimco Nagar.
Both stations were originally part of package UAA-09, but now their balance works has been divided up into two separate packages. The tender notices are not yet up on CMRL's website's tender page, but a reader supplied copies –
CONTRACT BW-UAA-09- STATIONS (ARCH)/STC – CONSTRUCTION OF BALANCE WORKS OF CIVIL, ARCHITECTURAL BUILDING WORKS & FINISHES (ABWF), SIGNAGES ETC WORKS AT SIR THIYAGARAYA COLLEGE UNDERGROUND STATION.
Tender BW-UAA-09- STATIONS (ARCH)/SKP – CONSTRUCTION OF BALANCE WORKS OF CIVIL, ARCHITECTURAL BUILDING WORKS & FINISHES (ABWF), SIGNAGES ETC WORKS AT KORUKKUPET UNDERGROUND STATION.
• Duration of contract: 6 months
• Prebid meeting: 25-02-2020 at 11:00
• Last date submission: 13-03-2020 up to 15:00 hrs
• Date of opening Technical Bid: 14-03-2020 at 15:00 hrs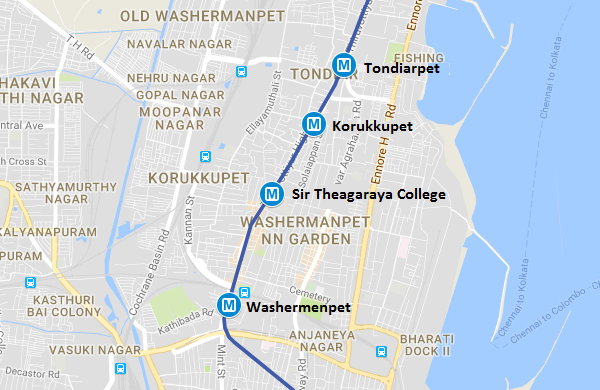 At the time of termination, here's what The Hindu reported –
According to CMRL officials, they were left with no choice but to terminate the contract because they were displeased with the poor pace of construction. "Usually, we try to do everything possible to help the firm finish the work. We terminate contracts only if there is no other option. They [ITNL] struggled with severe cash crunch for several months and the progress of work was poor. Hence, we decided to end the contract recently," an official said.

North of Korukkupet Station, the under construction line runs in an elevated mode with 6 new stations at Tondiarpet, Toll Gate, Thangal, Gowri Ashram, Tiruvottiyur and Wimco Nagar where an elevated stabling yard is being built, with further plans to build a 20 storey residential / commercial tower.
Track-work on the underground section has been completed and CMRL plans to run a diesel locomotive, like they typically first do, through the tunnels and maybe the elevated section if the tracks are ready towards the end of February prior to commencing trial runs with one of their Alstom trains.
For more updates, check out the Chennai section of The Metro Rail Guy!
– TMRG