Sela Tunnel – Information & Updates
11.315 km Sela Tunnel is an under construction road project in Arunachal Pradesh to ensure all-weather connectivity between Guwahati in Assam and Tawang in Arunachal Pradesh.
Sela Tunnel is expected to be completed and opened in December 2023 (current deadline).
The project with 2 tunnels (980m & 1555m) and 8.780 km approach roads is under construction by Patel Engineering Ltd. for the Border Roads Organization (BRO) under Project Vartak.
The project's foundation stone was laid by Prime Minister Narendra Modi in February 2019 with an estimated cost of Rs. 697 crore. Construction work started in April 2019 with the first blast taking place at Tunnel 2's Portal 4 on October 31 2019.
Design & Location
The project at an altitude above 13,000 feet near Sela Pass became necessary since the Balipara – Charduar – Tawang road remains closed due to snow for an extended period of the year. It aims to enhance the Indian military's capabilities at the Line of Actual Control (LAC).
The length of the tunnels and approach roads had changed since the contract was originally awarded. Current configuration:
Tunnel 1: This single-tube tunnel has a length of 980m. It was previously 475m.
Tunnel 2 : This bi-lane tunnel has a length of 1555m. It was previously 1790m. It includes one escape tube for emergencies.
Roads: Approach to Tunnel 1 is 7100m, road between the two tunnels is 1340m, and approach to Tunnel 2 is 340 m long.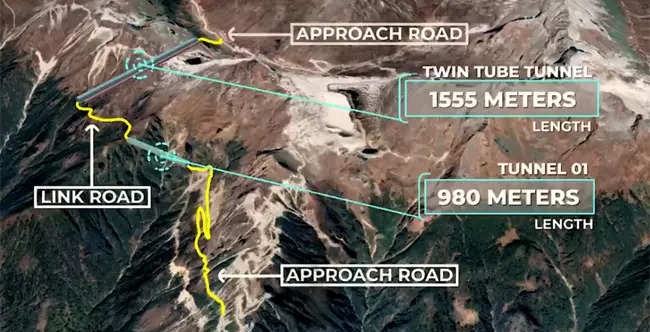 Current Status
The final tunnel breakthrough on Sela Tunnel's 980m Tunnel 1 was recorded in January 2022. The project is expected to be completed and opened in December 2023 (current deadline).
Here's a recent video by Autocar India on YouTube:
Page last updated: November 3, 2023. Have a question or spot an error? Let me know here.