Nagpur Metro – Information, Map & Updates
Menu: Construction Updates | Overview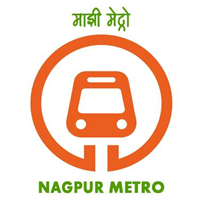 Introduction
The Nagpur Metro system is an urban Mass Rapid Transit System (MRTS) being built by the Maharashtra Metro Rail Corporation Ltd. (MahaMetro) to serve the city of Nagpur in eastern Maharashtra. Construction for its 38.215 km first phase started in 2015 and is expected to be completed in 2022 (estd.) with a mix of elevated & at-grade level lines.
In November 2017, MahaMetro's board approved a 3 km extension of Line-1 with the addition of two new stations at Ecopark and Metro City – extending the first phase of the project to 41.7 km. Besides that, a new elevated station was added at Cotton Market between Sitabuildi and Railway Station stations on Line-2.
As of December 2017, details of its future phases have not been announced.
Key Figures
Operational: 0 km | Under Construction: 38.215 km | Approved: 3 km
Line 1 (North-South): Automotive Square – Khapri: 22.293 km with 20 stations
In November 2017, MahaMetro approved a 2.63 km southern extension from Khapri to Metro City, adding 2 stations at Ecopark  and Metro City, taking the line's length from 19.658 km to approximately 22.293 kms.
Line 2 (East-West): Lokmanya Nagar – Prajapati Nagar: 19.407 km with 20 stations
In November 2017, MahaMetro approved the addition of another elevated station at Cotton Market between the Sitabuldi and Railway Station stations.
Future Network: Phase 1
The embedded map below shows the exact location of all stations and can be zoomed into!
Stations:
Line 1 (North-South): Automotive Square, Nari Road, Indora Square, Kadvi Square, GaddiGodam Square, Kasturchand Park, Zero Mile, Sitabuldi (interchange), Congress Nagar, Rahate Colonny, Ajni Square, Chhatrapati Square, Jaiprakash Nagar, Ujjwal Nagar, Airport, Airport South, New Airport, Khapri, Eco Park and Metro City
Line 2 (East-West): Prajapati Nagar, Vaishno Devi Square, Ambedkar Square, Telephone Exchange, ChittarOli Square, Agrasen Square, Dosar Vaisya Square, Nagpur Railway Station, Cotton Market, Sitabuldi (interchange), Jhansi Rani Square, Institute of Engineers, Shankar Nagar Square, LAD Square, Dharampeth College, Subhash Nagar, Rachana Ring Road Junction, Vasudev Nagar, Bansi Nagar and Lokmanya Nagar
List of Major Contractors
Contract
Contractor
Interim Consultancy
RITES – DMRC
General Consulatancy
Sytra-Egis-AECOM-RITES
69 Standard Gauge Coaches
CRRC
Khapri & Hingna Depots
Pratibha CSRL – Sudhir Constructions JV
Khapri Depot – New Airport
(At-Grade – 4.5 km)
NCC Ltd.
New Airport – Congress Nagar
(Viaduct – 7.61 km)
NCC Ltd.
Khapri – Congress Nagar
(10 elevated stations)
IL&FS Engineering Ltd.
Lokmanya Nagar – Jhansi Rani Sq
(10 elevated stations)
ITD Cementation Ltd.
Lokmanya Nagar – Jhansi Rani Sq
(Viaduct – 10.387 km)
Afcons Infrastructure Ltd.
Sitabuldi – Prajapati Nagar
(Viaduct – 8.15 km)
ITD Cementation Ltd.
Sitabuldi – Prajapati Nagar
(8 elevated stations)
ITD Cementation Ltd.
Sitabuldi – Automotive Square
(Viaduct – 7.144 km)
Afcons Infrastructure
Menu: Construction Updates | Overview