Kochi Metro – Information, Map & Updates
Menu: Construction Updates | Overview | Fare Chart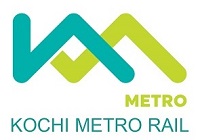 Introduction
The Kochi Metro system is an urban Mass Rapid Transit System (MRTS) that is being built to serve Kochi, the commercial capital of Kerala. Construction for its 25.612 km Phase 1A from Aluva to Pettah with 22 stations started in June 2013. On June 17, the Prime Minister of India inaugurated a 13.2 km section, from Aluva to Palarivattom, and commercial operations commenced 2 days later on June 19.
In 2014, a 1.92 km eastward extension to Tripunithura from Pettah was approved to be included in Phase 1. Construction on it will begin once road widening along the route is completed. Phase 1B of the project includes a new spur line from Jawaharlal Nehru Stadium to Infopark II in Kakkanad. The project was approved by the state government in May 2015 and construction work is expected to begin in 2017.
Various announcements of what Phase 2 will look like have been made, but detailed planning for it is yet to begin.
Key Figures
Operational: 18.2 km | Under Construction:  9.31 km | Approved: 11.2 km (Phase 1B)
Phase 1A: Aluva – Tripunithura:  27.53 km, 24 stations (operational & under construction)
Phase 1B: JLN Stadium – Infopark II: 11.2 km, 10 stations (approved)
The embedded map below shows the exact location of all stations and can be zoomed into!
Operational Network:
Future Network: Phase 1A & 1B
Stations on Line 1:
Phase 1A: Aluva, Pulinchodu, Companypady, Ambattukavu, Muttom, Kalamassery, Cochin University (CUSAT), Pathadipalam, Edapally, Changampuzha Park, Palarivatom, JLN Stadium, Kaloor, Lissie, M.G. Road, Maharaja's College, Ernakulam south, Kadavanthra, Elamkulam, Vytila, Thykkoodam, Pettah, SN Junction & Tripunithura
Phase 1B: Palarivattom Bypass, Chembumukku, Vazhakkala, Kunnumpuram, Kakkanad Junction, Kochi SEZ, Chittethukara, Rajagiri, InfoPark I, and InfoPark II
List of Major Contractors
| | | |
| --- | --- | --- |
| Contract | Details | Contractor |
| GC | General Consultant | DMRC |
| DDC | Detailed Design Consultant | Egis India |
| KRS-1 | 75 Coaches (Rolling Stock) & Signalling System | Alstom India |
| KS-1 | Signalling, Train Control & Telecommunication | Alstom India |
| KS-2 | Automatic Fare Collection | Axis Bank |
| KC-02 | Construction of viaduct & 6 stations from Aluva – Kalamassery | Larsen & Toubro |
| KC-03 | Construction of viaduct & 6 stations from CUSAT – JLN Stadium | Larsen & Toubro |
| KC-04 | Construction of viaduct & 5 stations from Kaloor – Ernakulum South | Soma Enterprise |
| KC-05 | Construction of viaduct & 5 stations from Kadavanthara – Petta | Era-Ranken JV |
| KC-11 | Construction of Muttom Depot | McNally Bharat |
History – Key Dates
19 June 2017: Aluva – Palarivattom (Line-1) – 13.2 km
4 October 2017 – Palarivattom – Maharaja's College (Line-1) – 5 km
Menu: Construction Updates | Overview | Fare Chart