August 4 Update: KEC – VNC JV has been issued a LoA by KMRL
Original Post:
KEC International Ltd. – Vijay Nirman Company Pvt. Ltd. (KEC – VNC JV) today emerged as the lowest bidder for constructing Kochi Metro's 1.163 km elevated extension from S.N. Junction to Thrippunithura.
This small extension with one new station is a part of the partially under construction Petta – Thrippunithura section of the 2.95 km Kochi Metro Phase 1B project.
KMRL invited tenders for it in May 2020 with an estimate of Rs. 166 crore and opened technical bids on July 14 to reveal 5 bidders. During technical bid evaluation, which took a record 10 days, the bids submitted by Marymatha Infrastructure and Crescent Contractors – EKK Infrastructure (Crescent – EKK JV) were disqualified as they were not compliant to the tender conditions, so those firms' financial bids were not opened.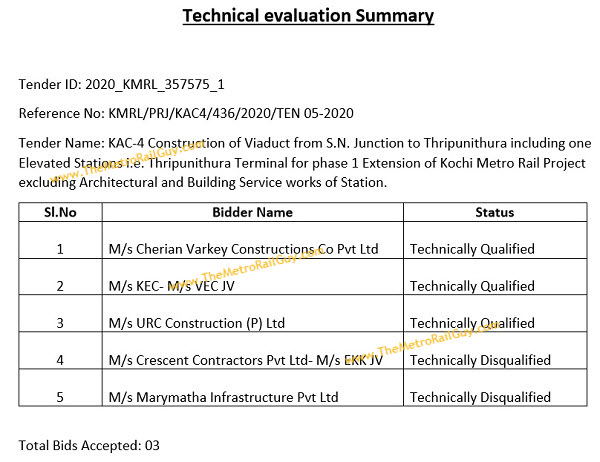 Financial Bid Values (KMRL's estimate: Rs. 166 crore)
| | |
| --- | --- |
| Firm | Bid |
| KEC International Ltd. – Vijay Nirman Company Pvt. Ltd. (KEC – VNC JV) | Rs. 162.98 crore |
| URC Construction Pvt. Ltd. (URCC) | Rs. 179.56 crore |
| Cherian Varkey Construction Company Pvt. Ltd. (CVCC) | Rs. 181.60 crore |
Tender No: KAC-4 (link)
Scope: Construction of Viaduct from S.N. Junction to Thrippunithura (from Ch. 26+962 to 28+125) including one Elevated Stations i.e Thrippunithura Terminal (at Ch. 27+781.90) for Phase 1 Extension of Kochi Metro Rail Project Excluding Architectural and Building Services Works of Stations.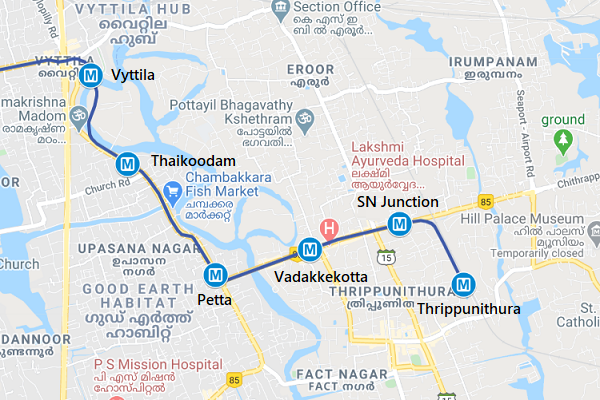 KEC is already building Phase 1B's 1.78 km Package KAC-2 (Petta – Vadakkekotta – S.N. Junction), so this will be their second contract for Kochi Metro's construction if no issues arise during financial bid evaluation. If and when awarded, they will be required to complete all civil work in just 20 months.
For more updates, check out the Kochi section of The Metro Rail Guy!
– TMRG