Kochi Metro Rail Ltd. on Wednesday invited tenders (bids) from civil construction companies for the construction of Kochi Metro Line-1's 1.163 km elevated extension from S.N. Junction to Thrippunithura with one new station at Thrippunithura.
This small extension of the line is a part of the partially under construction 2.95 km Petta – Vadakkekotta – S.N. Junction – Thrippunithura section of Phase 1B which is being executed by KMRL without the help of the Delhi Metro Rail Corporation. The project's revised Detailed Project Report (DPR) was approved by Kerala's government in July 2019 with the Thrippunithura extension estimated to cost Rs. 356 crore.
Tender No: KAC-4
Scope: Construction of Viaduct from S.N. Junction to Thrippunithura (from Ch. 26+962 to 28+125) including one Elevated Stations i.e Thrippunithura Terminal (at Ch. 27+781.90) for Phase 1 Extension of Kochi Metro Rail Project Excluding Architectural and Building Services Works of Stations.
Completion Period: 20 months
Sale of Tender Documents: 13-May-2020 to 12-Aug-2020 5:30 pm
Pre-bid Meeting: 26-May-2020 11:00 am
Bid Submission End Date: 12-Aug-2020 5:30 pm
Bid Opening Date: 14-Aug-2020 3:00 pm
This notice is the last notice inviting tenders for Kochi Metro Phase 1B's civil construction. After this, KMRL's procurement team will shift focus to Phase 2's 11.2 km JLN Stadium – Infopark II line.
Bids for appointing a Proof Consultant for the structural design of this section's viaduct and station were invited in mid-April.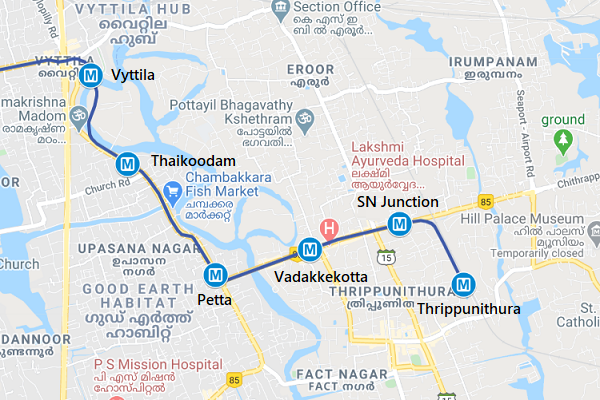 Just to rehash – the line is operational from Aluva to Thaikoodam. KMRL started trial runs from Thaikoodam to Petta in February, while the rest of the line is under construction until SN Junction (package KAC-2) by KEC International – China Civil Engineering Construction Corporation (KEC-CCECC) JV through a Rs. 265 crore contract it won in June 2019.
For more updates, check out the Kochi section of The Metro Rail Guy!
– TMRG