This project came out of nowhere! While news related to it first started emerging in early 2014, I was a little skeptical about its progress given the history and background of projects that are announced in the region. While I don't like to be proven wrong (who does?), in this case I'd gladly admit that things have panned out way better than previously thought. Tenders for construction of the entire line have been awarded and piling work has already begun!
Here are the all details you need:
What?
A 28.8 km metro line connecting Noida with Greater Noida consisting of 20 stations + 2 future stations (list) and a depot near Knowledge Park IV.
Where?
This line will run from Sector 71 in Noida to Delta 1 sector in Greater Noida. Please refer to this map from the civil contractor's website: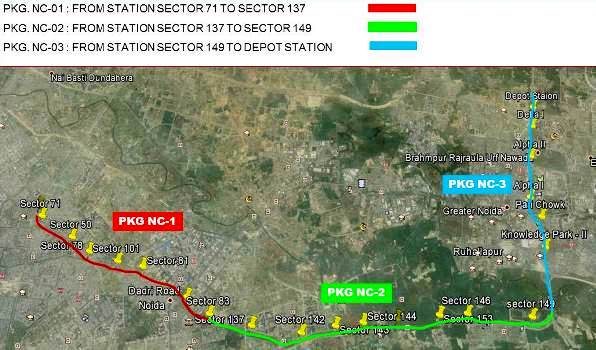 When?
End of 2018 – That's the official deadline.
Who?
This line is being developed by a new body called Noida Metro Rail Corporation (website)
Historical Dates
• January 13 2013 – Approval from Noida and Greater Noida Boards
• April 30 2014 – Approval from Urban Development and appointment of DMRC as the consultant
• May 21 2015 – Construction Contracts (NC-01, NC-02 and NC-03) awarded to Taiwan based Continental Engineering Corporation (CEC)'s Indian subsidiary and Ayesa Engineering.
As part of its consulting job, the DMRC has released a tender (link) for supplying 78 standard gauge train sets and another tender (link) for the technical systems consisting of the commissioning of train control, signalling and telecommunication systems. These are expected to be finalized and announced within the next couple of months.
Site Images:
For the latest updates on this project, please make sure to check the Noida & Greater Noida page
– TMRG