The Chennai Metro Rail Ltd through their Facebook page has announced trip passes at 20% discounted rates between any two fixed stations on the metro network. This does not come as a surprise since the first stretch of the Metro from Koyambedu to Alandur covering a distance of 10 kms has not seen the type of daily ridership it was expecting. The metro witnesses a spike during the weekends as families come for joy rides, but during the weekdays, the ridership on this stretch has been lower than projected.
As you will see below, there are 3 types of passes based on the number of trips & days of validity: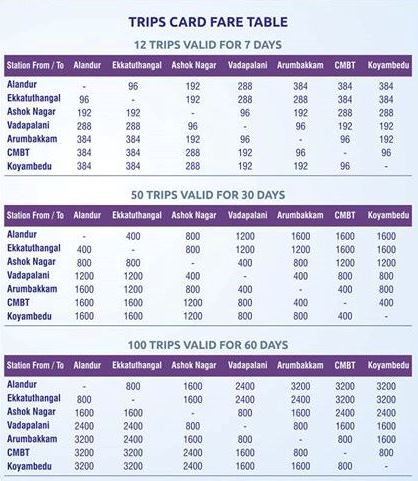 These passes are valid from the date of 1st usage and expire based on different time slabs, so for instance you can choose to buy it on Sunday before the work week begins and then start using it from Monday.  A 7 day pass is valid for 12 trips, the 30 day pass is valid for 50 trips and the 60 day pass is valid for 100 trips.
Example of Benefit:
Through the 7 day pass, a user would have to pay Rs 384 for 12 trips between Alandur and Koyembedu. However, if the user was to buy a token for each ride every day, then he/she would have to pay Rs 40 for each trip bringing the total to Rs 480. By buying the pass, the  user instantly saves Rs 96 which represents a 20% discount.
In order to get a pass, users will have to deposit a refundable amount of Rs 50. What's good is that the unused component of the pass can be refunded upon surrendering the card ONLY within the period of validity. So for instance, if you haven't used your 12 trips within 7 days, then on the 8th day you cannot ask for a refund. The refund request must be made within the validity period of the card you purchased.
Things to keep in mind for users:
– The card may only be used between two fixed stations. This helps if the metro line falls along the route of your commute between home and office.
– A 'trip' is defined as a single journey from one station to the other. It does not include the return journey.
– Users can bundle trips of 12, 50 or 100 on the card. It doesn't necessarily have to include just one bundle of trips. For example, a user can load 12 trips twice or a combination of 12 & 50 trips and so forth.
While I consider this to be an excellent step to boost ridership, I do believe that the CMRL could also do a better job at creating a feeder/shuttle bus system to bring more passengers to its stations. Reports in the past have suggested that users were finding it difficult to access some of the stations due to broken footpaths and no FOBs to cross over, but it's good to see that some progress has recently been made (See: Foot Overbridges to Connect 2 Chennai Metro Stations). Now only if they can fix the station access and feeder service, then it would bring in a lot more users and subsequently revenue. I just spoke like an armchair general, but it's quite true!
For more updates on the Chennai Metro, check out the Chennai section of the TMRG!
– TMRG