A pair of piers (columns) for the Lucknow Metro's special 255m long cantilever bridge at Mawaiyya railway crossing have started to take shape! This bridge will be similar to the one recently built over the Punjagutta Flyover for the Hyderabad Metro, and consist of 3 spans – a 105m long central span and two 75m long end-spans. Construction for it under contract LKCC-02 was awarded to S.P. Singla in June 2015 at a cost of Rs. 34 crore with a completion time-frame of 16 months.
Satellite view of the site:

Some images: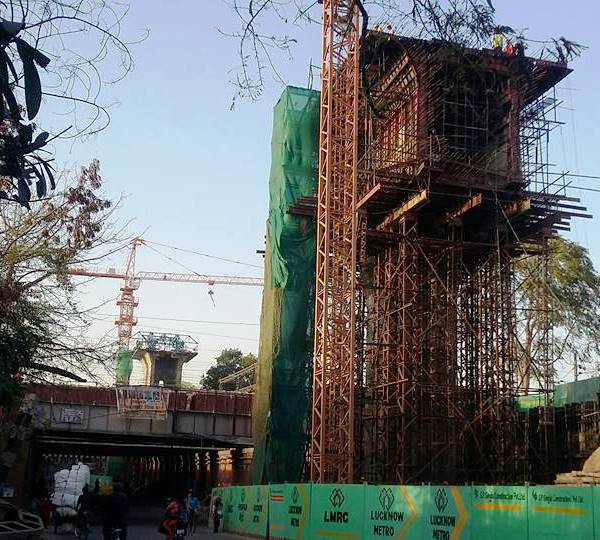 The contractor of this bridge, SP Singla, has just started the groundwork for a similar bridge in Kochi! See details & a site image of that bridge here: Piling Work Begins for Kochi Metro's 220m Cantilever Section. Images of cantilever bridges built for the Delhi & Chennai Metros can also be found in the above link.
Coming back to Lucknow, this bridge's timely completion is important so that the entire 8.48 km priority corridor of the north-south line (view images) opens up by February 2017. If it isn't ready by that time, then the Lucknow Metro Rail Corporation, under the state government's pressure to deliver before the Legislative Assembly elections, would be forced to first start curtailed operations between Transport Nagar and Mawaiyya stations (see map) and later extend operations to include Durgapuri and Charbagh stations which lie on the other side of the railway tracks.
For more updates on the Lucknow Metro, check out the Lucknow section of The Metro Rail Guy!
– TMRG