The Delhi Metro Rail Corporation just uploaded a dedicated link on their website to demarcate the influence zones of all existing, under construction and proposed lines on Google Maps. This includes the alignments for the 6 new routes that are currently on the table for the Phase 4 project!
The influence zones highlighted on the website cover 11 meters on either side of the metro lines' alignments, and all plans for building within it currently have to be vetted to obtain a 'No Objection Certificate' from the DMRC prior to construction. The aim of launching this link is to avoid confusion and save time for those wondering if they need to apply for a NOC or not.
According to a DMRC Press Release:
As per rules, the 'influence zone' of the Delhi Metro comprises of an area of 11 metres on either side of the edge of the Metro structures. Any building plan within this area needs an NOC from DMRC. Therefore, a user friendly link will be available on the website – www.delhimetrorail.com from tomorrow where the 'influence zone' along Metro corridors for the presently operational sections as well as Phase 3 and Phase 4 extensions will be demarcated on the Google Earth platform.

By the help of this link, any individual or municipal body planning to apply to DMRC for NOC will clearly know whether the plan requires an NOC from DMRC at all or not. This will save time for all the stakeholders involved. This step has been taken as part of the Government of India's 'Ease of Doing Business' initiative.
The disclaimer page of this initiative has the following piece of advice which is quite important since Phase 4's Detailed Project Report is yet to be finalized.
This material on this Web site is on 'best effort' and 'as is' basis by DMRC, but excludes any representation or endorsement made or warranty given (either express or implied) as to the completeness, accuracy, timeliness, performance, fitness for particular purpose of the information it contains.

Any material or information available on our website is subject to alteration or change or modification. We reserve the right to alter or change or modify any content on our website without any notice or warning.
Here's the Phase 4 link for you to explore → Phase 4's Influence Zones
I noticed the 6 links within the above page are a little buggy and do not open on first try. Try refreshing the page and wait for a couple seconds – the alignments should eventually display. If it doesn't open after the 5th try, then try another link and return back to the first one later.
Surveys and preliminary works for the 6 routes currently on the table for Phase 4 were recently approved by Mangu Singh, DMRC's Managing Director. More details on that can be found here: DMRC MD Approves Survey for Modified 95.86 km Phase 4.
Here are the DMRC's influence zone maps for the 6 routes:
New Lines
1) Dwarka – Prem Piao: 18.6 km with 18 stations – link to map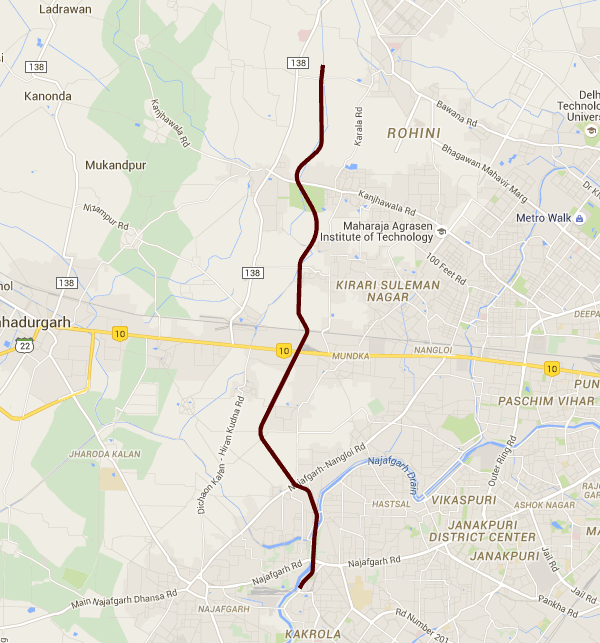 2) Tughlakabad – IGI Terminal 1: 19.68 km with 15 stations – link to map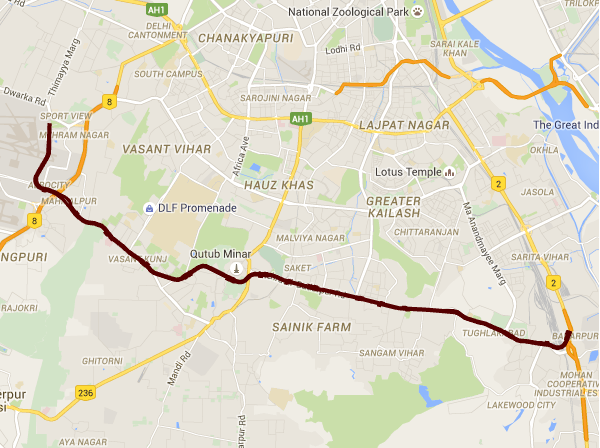 3) Mukundpur  – R.K. Ashram: 10.72 km with 10 stations – link to map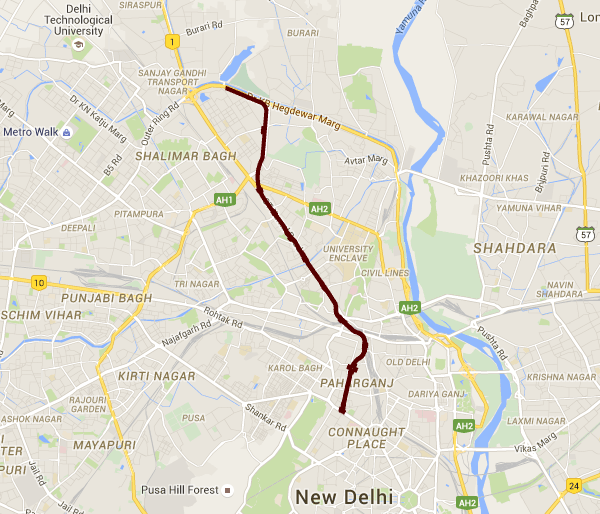 4) Inderlok – Indraprastha: 12.57 km with 10 stations – link to map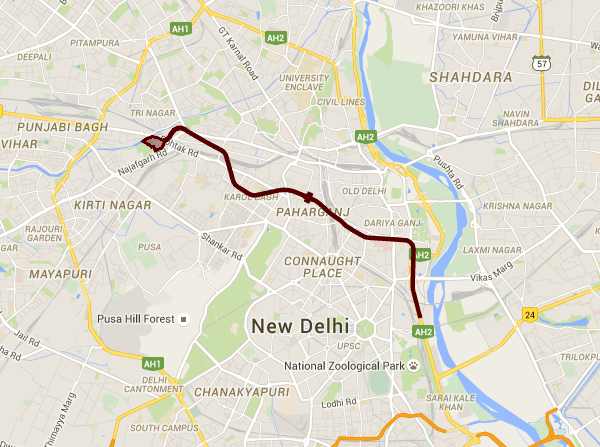 Extensions of Existing Lines
5) Pink line – Majlis Park – Maujpur: 12.56 km with 6 stations – link to map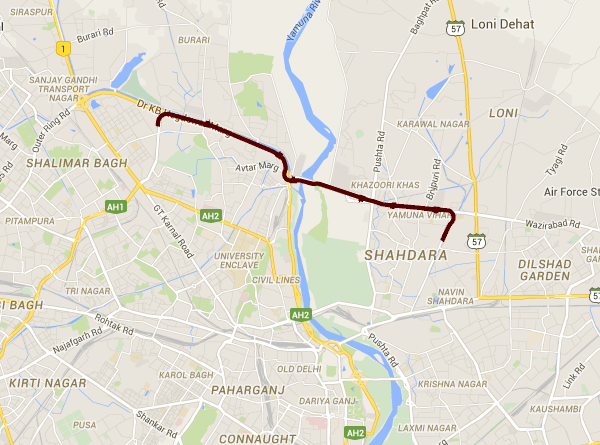 6) Red line – Rithala – Narela: 21.73 km with 16 stations – link to map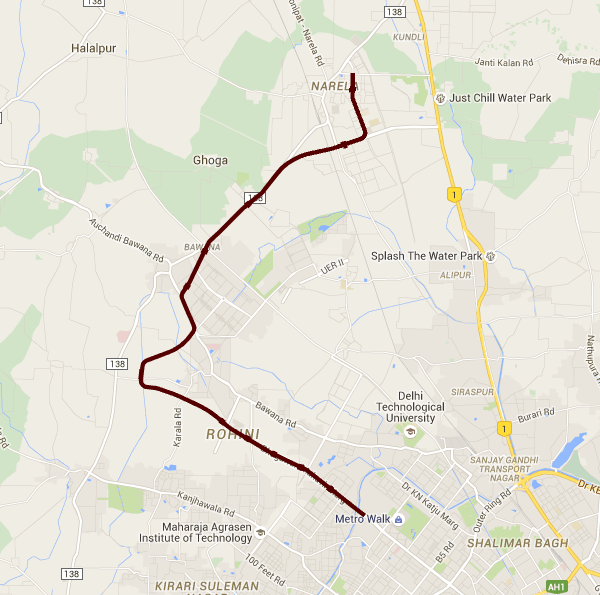 I've combined all these alignments into a single map below. You can use your mouse to zoom in/out.
A couple of pointers:
• The Inderlok – Indraprastha line which was previously thought to be an extension of the Green Line is now confirmed to be a separate line all together. This line's depot will come up at the Najafgarh Road Industrial Area which is currently used as a casting yard for segments.
• The Inderlok – Indraprastha and Mukundpur – RK Ashram lines will form an interchange at Mahavir Enclave close to Sadar Bazaar.
• The Red line and the Dwarka – Prem Piao line will form an interchange at Prem Piao.
• The location of the IGI Terminal 1 – Tughlakabad and Dwarka-Prem Piao lines' depots are yet to be fixed.
• The IGI Terminal 1 – Tughlakabad line is shown to pass underneath Mehrauli village and within the vicinity of the Qutub Minar. I do not expect the Archaeological Survey of India to approve this alignment.
Next Steps:
1) Detailed Project Reports for individual lines have either been prepared or an in a state of preparation. Once that is done, a preliminary DPR would be presented to the DDA, PWD and Urban Development Departments among others for their input and suggestions. After changes are made, a final DPR which amalgamates all facets of this phase with specific details on all lines, funding pattern (very moot topic) and operational plan will be prepared.
2) After the Delhi government's cabinet approves the final DPR (estd. in 2017), the DMRC will hire Detailed Design Consultants (DDCs) in 2017/18 to design each line's exact alignment & stations.
3) The tendering (bidding) process for constructing Phase's 4 lines is expected to begin in 2018 when Phase 3's construction draws to a close.
Overall, I expect multiple changes in scope, alignment and design to take place by the time construction begins. One of those changes in scope would include the addition of a new corridor connecting Dwarka with Gurgaon for which the DMRC was recently tasked with preparing the Detailed Project Project. Whether this will be an extension of the Airport Express line or the Blue line is yet to be seen.
For more updates on Delhi's Metro, check out the Delhi section of The Metro Rail Guy!
– TMRG