It's now official! After mindless hearsay and numerous incorrect reports which claimed to have confirmed the dates straight from ministers, we finally have a date. Strike that…make that two dates. 😀
BMRCL's General Manager of Finance yesterday evening announced that the east-west Purple Line's 4.8 km underground section between Magadi Road and MG Road with 5 stations will be inaugurated on April 29 (Friday) with commercial operations starting on the 30th (Saturday).
Inaugural of the E-W corridor scheduled on 29th at 6PM venue: Vidhana Soudha

— Vasanth Rao (@uavasanthrao) April 24, 2016
@ananda_nadig commercial operation from 30th April

— Vasanth Rao (@uavasanthrao) April 24, 2016
The 5 underground stations on this section include Cubbon Park, Dr. BR Ambedkar Vidhana Soudha, Sir. M Visveshwaraya, Majestic and Bangalore City railway station.
Existing – 3 fragmented stretches totaling 25.5 km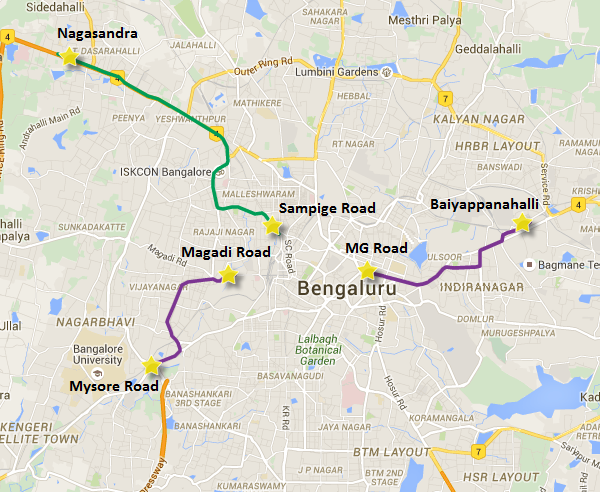 After – 2 fragmented stretches totaling 30.3 km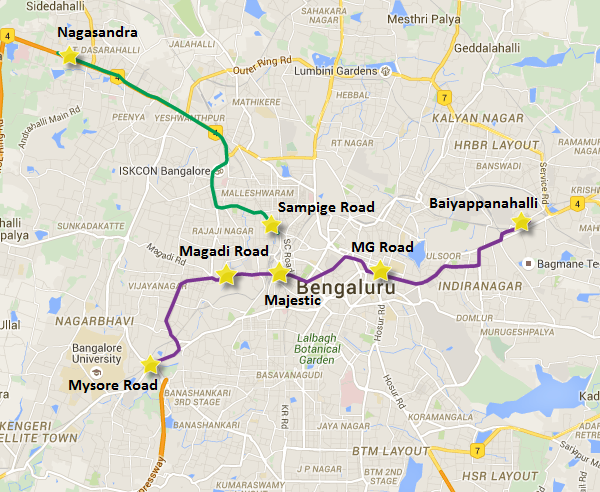 Facts:
• The line will be inaugurated on April 29 at 6 pm by M Venkaiah Naidu, India's Urban Development Minister, and Siddaramaiah, Karnataka's Chief Minister. On April 30, commercial operations will begin at 6 am with trains flagged off from either end of the line – i.e. Mysore Road and Baiyappanahalli.
• This will be the Purple Line's last section to open in the 42.3 km Phase 1 project. The line will become 18.1 km long with 17 stations, and users will able to travel between Mysore Road station and Baiyappanahalli station in roughly 33 minutes at a cost of Rs 40. This will revolutionize east-west transit and boost BMRCL's operational performance which has been quite poor due to fragmented operations.
• Tunneling work on this stretch was completed on March 17 2014 with TBM Helen making a breakthrough at Majestic station from the City Railway station. Unlike the Green Line, the Purple Line didn't have any TBM breakdowns or tough tunneling conditions. That said, it's always amusing to see geology being blamed for the delay by BMRCL officials. FYI – Track-work inside the tunnels was not complete until October 2015!
• Users will not be able to use their phones inside the stations and trains within the tunnels as the BMRCL didn't incorporate the installation of cell sites & necessary equipment while other works were going on. On this Friday, they finally invited bids, so it'll be another 6 months for users to get a signal.
• The City Railway Metro station currently has no access to the railway station. A Foot Overbridge (FOB) planned to connect with the station is not yet ready and will only open towards the end of the summer. Users can however use the nearby Majestic station to access all platforms. Hopefully the BMRCL has planned announcements for this.
• Earlier this month, the Vidhana Soudha Metro station was renamed to 'Dr. BR Ambedkar Vidhana Soudha' which is quite long, unfriendly & unnecessary to begin with.
• This will be India's 4th underground metro corridor. Journalists have either forgotten or just don't have the knowledge that besides Kolkata & Delhi, Jaipur Metro also consists of a 950m underground stretch at Chandpol which is currently being extended by 2.35 km to Badi Chaupar.
• Once operational, Bangalore's 30.3 km long metro network will overtake Kolkata's 28.14 km metro line to become the 2nd longest in India after the Delhi Metro's mammoth 213 km network.
Who's excited? I know I am!
For more updates, check out the Bangalore section of The Metro Rail Guy!
– TMRG