Two trains from Delhi Metro's new batch of 504 Hyundai Rotem coaches collided on the evening of November 4 at the upcoming 38.235 km Magenta Line's Kalindi Kunj Depot from where trial runs are underway. At this point, it isn't known if the trains were manually being driven by operators or being driven under the Unattended Train Operation (UTO) mode. No injuries have been reported.
November 5 – 8 am Update: DMRC hasn't yet divulged any details on this incident. Unless it blows up in the media, I don't believe the DMRC will go out of its way to announce and tarnish its image.
November 5 – 10 am Update: Some media houses have reported the incident. Anuj Dayal from DMRC's Corporate Communications Dept just sent this message out to journalists: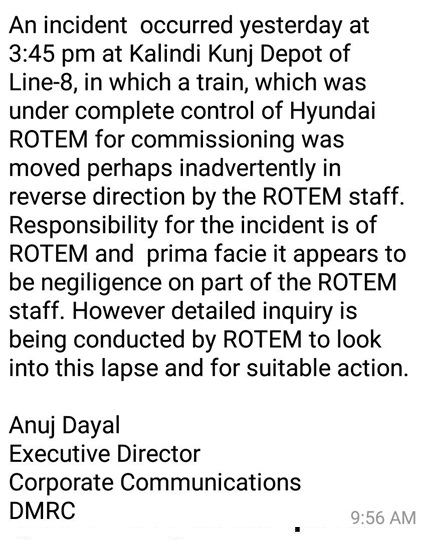 I'm hoping the propulsion system of either train hasn't been damaged.
For more updates, check out the Delhi section of The Metro Rail Guy!
– TMRG