The first few details of what Ahmedabad Metro's Phase 2 project will look have emerged after the Delhi Metro Rail Corporation (DMRC) recently presented the first draft of its Detailed Project Report to the Ahmedabad Urban Development Authority. This entirely elevated phase will add another roughly 30 kms to the 39.259 km Phase 1 network and has been estimated to cost Rs 6,500 crore.
In February 2016, the Gujarat state government had allocated a sum of Rs 2 crore in its 2016-17 state budget and appointed the DMRC to prepare the Phase 2 project's DPR. As per the draft DPR, the 18.522 km Line-2 from APMC to Motera in Ahmedabad is planned to be extended northward to connect Mahatma Mandir in Gandhinagar and will feature two branches or spur lines. The first will connect the village of Raysan with the under development GIFT City, while the second will connect Motera, where the world's largest cricket stadium is coming up, with the Sardar Vallabhbhai Patel International Airport.
Here's an extremely crude/rudimentary design of what the Phase 2 network could look like. Multiple changes can be expected to take place by the time the DPR is finalized.
Phase 1 (Under Construction) | Phase 2 (Proposed)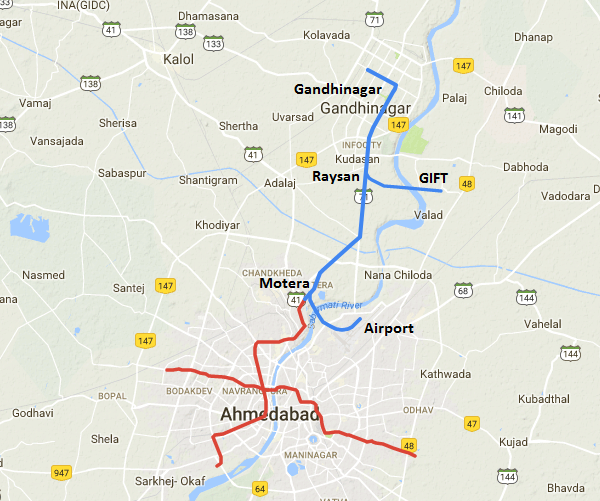 In the coming months, the DMRC is expected to submit the final DPR to the state government for its scrutiny and approval. With Legislative Assembly elections scheduled to take place in the state later this year, there's a good possibility of the incumbent government's cabinet approving the project prior to the model code of conduct kicking in. Stay tuned to find out what happens!
For more updates, check out the Ahmedabad section of The Metro Rail Guy!
– TMRG