Before I started this website, I didn't really "get" Twitter. It took me a while to learn all the ropes, but gradually I began to embrace it and now I use it constantly! A lot of readers already follow me on Twitter, but if you don't – you should! Here's a few reasons why:
Whenever I publish a post here, I tweet a link to it with the post's biggest take-away & a couple of images.
I tweet links from local & national news outlets which carry everyday news items such as passenger ridership figures, station design plans, exit of key metro officials, list of infra companies who've attended a pre-bid meet, and so forth. For minor updates/news items like these, it's a lot easier to tweet an external link than rehashing the article and effectively adding no value or unique content which I've always aimed to provide here.
I tweet a lot of images and videos for everyone to see and gauge the progress made. These images and videos by themselves do not warrant a post on the website, and a tweet with a simple caption seems adequate. Some recent examples includes these images from inside Kochi's Kalamassery Station, these images showing AFC gates being configured in Delhi's Botanical Garden Station, and these images of an unique entrance at Chennai's Pachaiyappa's College Station. On the video side of things, I recently shared this video of a first-person view riding Hyderabad's Metro train, this video of the commencement of speed trials on Bangalore's Green Line and this video of sheer madness at one of Mumbai's stations. If you click on the above links, you'll see what I mean!
From time to time, I tweet interesting images of metro systems around the world such as this from Hong Kong, this from Tokyo and this from Haifa as it's always good to keep a track of what's going on elsewhere and see how they're set up.
I try my best to answer all questions and provide my thoughts. This obviously isn't restricted to Twitter, I also do this here on the website, but Twitter is a great way to keep in touch.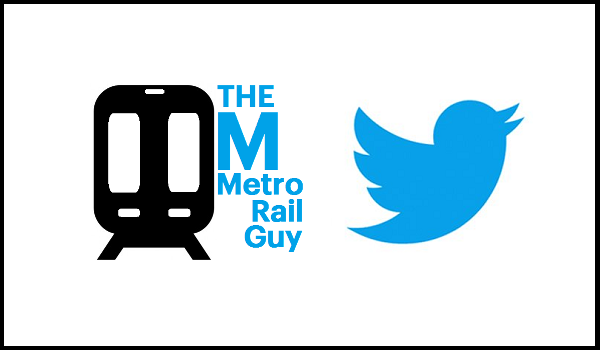 Obviously using and following me on Twitter isn't a requirement and you'll still get great value even if you don't, but it is worth doing if you use Twitter on even a somewhat regular basis. If you have no plans to sign up, but still want to view my tweets, then I'd recommend bookmarking this page.
– TMRG 🙂