Noida Metro Rail Corporation this past week invited bids from engineering design firms for the appointment of a Detailed Design Consultant (DDC) to assist with executing a 9.605 km extension of Noida Metro's 29.7 km Line-1 (Aqua Line) from Noida Sector-51 to Greater Noida Sector-2.
This move comes a month after the Uttar Pradesh Cabinet on December 3, 2019 approved a 14.95 km extension of the line from Sector 51 to Knowledge Park V. The appointment of a DDC for developing the line's design is among the first few steps the NMRC has to take prior to start of tendering for civil construction.
Contract NGNDDC: "Engagement of Detailed Design Consultant (DDC) for Civil, Architectural and E & M Works of Noida-Greater Noida Metro Corridor from Sector – 51 Noida to Greater Noida Sector – 2 , consisting of 9.605 Km Viaduct including 5 Elevated Stations"
• Estimated Cost: INR 2.76 crores
• Tender Document Sale: 22/01/2020 to 19/02/2020 (5 pm)
• Submission Date: 19/02/2020 (5 pm)
• Technical Proposal Opening Date: 20/02/2020 at 11 am
In a separate scope of works document, some of the basic responsibilities are listed –
a) Producing concept planning and design alternatives of elevated and interchange stations for NMRC's review.

b) Review of alignment in general and station locations in particular with a view of optimization of neighborhood connectivity and MMI integration; Detailed review of alignment with respect to construction cost optimization and ease of construction and providing alignment drawings for Civil work tenders.

c) Perform cost effective detailed designs of Architectural, Structure (including track supporting structure), Building Electrical and Mechanical services, based on approved designs and design criteria for elevated stations.

d) Manage the design task for cost, schedule and performance compliance.

e) Preliminary design for stations, viaduct as per project requirement for tendering process.
Check out the scope document linked above for more.
The first phase of Line-1's eastern extension consists of 5 elevated stations at Noida Sector 122, Noida Sector 123, Greater Noida Sector 4, Ecotech 12 (Tech Zone) and Greater Noida Sector 2.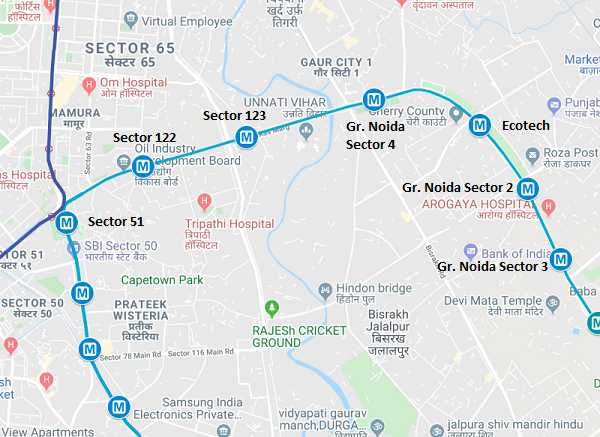 In the second phase, the line will be extended 5.8 km further south through 4 stations at Greater Noida Sector 3, Greater Noida Sector 10, Greater Noida Sector 12 and Knowledge Park 5. All of these stations have been mapped out here. Appointment for this section's DDC will be part of a separate tender notice and contract.
Meanwhile, per TOI – average ridership on the 29.7 km Line-1 stands at just 23,095 per day with daily revenue of Rs 6.6 lakh. The highest ridership of 39,451 passengers was recorded on September 19, 2019 with revenue collection of Rs 11.97 lakh.
For more updates, check out the Noida – Greater Noida section of The Metro Rail Guy!
– TMRG