On February 7, India's National High Spreed Rail Corporation (NHSRCL) invited bids for preparing the final alignment design, using LiDAR surveys, and for preparing Stage-1 preliminary route development artefacts for six new high-spreed rail lines across India.
NHSRCL is currently developing the 508 km Mumbai Ahmedabad High Speed Rail Link (MAHSRL) project, and in 2019 was tasked by the government of India to start the leg-work for developing individual detailed project reports (DPRs) for 6 more high-speed train lines with an aim to replicate the National Highways Authority of India's diamond quadrilateral project to connect major economic towns and cities.
CONTRACT/LIDAR/2020/03 – Final Alignment Design Including Aerial LIDAR Survey and other Related Works for Six High Speed Rail Corridors
• Last date of submission: March 11 2020 at 3 PM
• Technical Bids to be opened: March 11 2020 at 3:30 PM
CONTRACT/DESKTOP/2020/04 – Carrying out Stage-1 Preliminary Route Development for New High Speed Rail Corridors for NHSRCL
• Last date of submission: Feb 21 2020 at 3 pm
• Technical Bids to be opened: Feb 21 2020 at 3:15 PM
LiDAR survey is a laser-based surveying technique for rapid and accurate collection of topographic data, while a 'stage-1 survey' is a preliminary site investigation and typically involves an appraisal of site history and a site inspection.
The six corridors / lines identified by the government are –
Mumbai – Nashik – Nagpur (approx 750 km)
Mumbai – Pune – Hyderabad (approx 700 km)
Delhi – Agra – Kanpur – Lucknow – Varanasi (approx 900 km)
Delhi – Jaipur – Udaipur – Ahmedabad (approx 900 km)
Chennai – Bengaluru – Mysore (approx 450 km)
Delhi – Chandigarh – Ludhiana – Jalandhar – Amritsar (approx 450 km)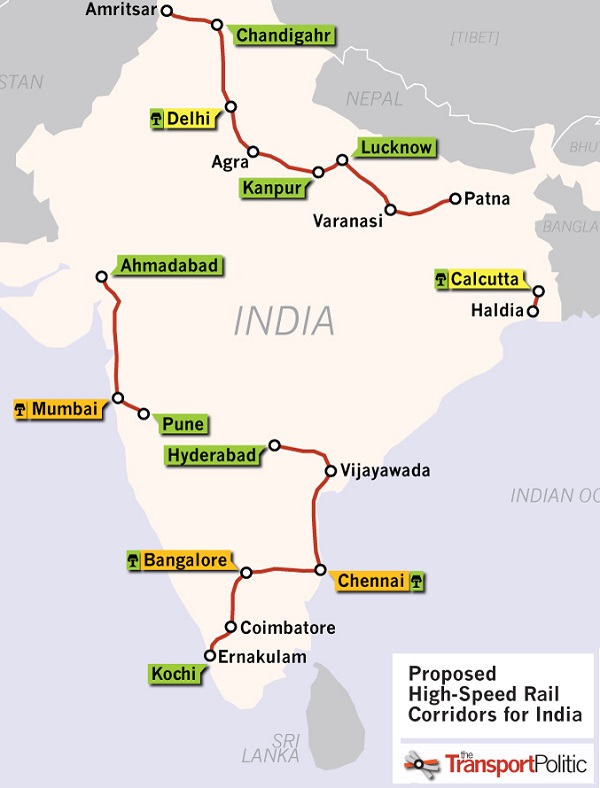 The work carried out by the two assigned contractors will go into developing individual DPRs for each line, and assist with recommending each line's optimal route, project cost, project ridership, multi-modal integrations, and form of construction. From there on, it'll be a long journey to secure financing and approvals from the Railway Board, respective states governments and union government.
For more updates, check out the High Speed Rail section of The Metro Rail Guy!
– TMRG