Bangalore Metro Rail Corporation Ltd. (BMRCL) will today (Sunday) restrict commercial operations on the 24.20 km Green Line's 3.9 km Reach-4A (RV Road – Yelachenahalli) to power-up the new 6.29 km Yelachenahalli – Anjanapura Reach-4B section which is being built as part of the 73.92 km Phase 2 project.
BMRCL's press release –
BMRCL is taking up the work of drawing of 33KV power cables from the Yelachenahalli Receiving Sub Station to Yelachenahalli station and beyond for powering the Reach-4 extension line from Yelachenahalli to Anjanapura Station. For this work, Metro Train service between R.V. Road and Yelachenahalli Metro Station on Green Line will remain suspended on 16/02/2020 (Sunday). However, Metro trains will be available between Nagasandra and R.V. Road Stations.

Normal train services between Nagasandra and Yelachenahalli stations will be resumed from 5.00 AM of 17/02/2020 (Monday).
This section includes 6 new elevated stations at Konankunte Cross (erst. Anjanapura Cross Road), Doddakallasandra (erst. Krishna Leela Park / ISKON), Vajrahalli, Thalgattapura, and Anjanapura (erst. Anjanapura Township) –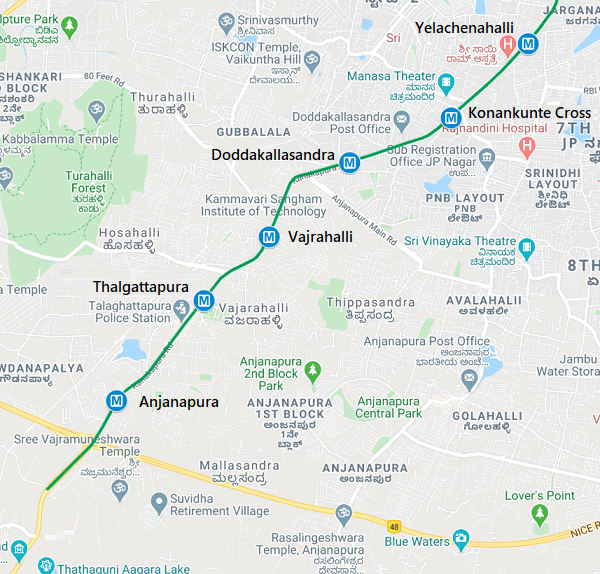 It also includes a new depot, south of NICE Road, to serve the entire line but construction on it or to it hasn't commenced yet. That wouldn't affect operations though as the Peenya Depot, in north Bengaluru, is capable of servicing the entire line. The new depot is planned to come up at the Devika Rani Roerich Estate, but the depot-line connecting to it still requires Stage-II approvals from the Forest Department.
Per the latest newsletter, civil construction of this section by NCC Ltd. is in advanced stage – 87% complete in January vs 86% in December 2019, and track-plinth casting work by Texmaco Rail & Engineering is also nearing completion – 11383m has been cast out of 12580m with 11700m handed to Texmaco. With the line getting powered up today, manual trial runs on a portion of it can be expected to start very soon through one pair of the tracks.
For more updates, check out the Bangalore section of The Metro Rail Guy!
– TMRG