Besides awarding China's CRRC Corporation Ltd. with a contract to supply 216 coaches, the Bangalore Metro Rail Corporation Ltd (BMRCL) in December 2019 also awarded Japan's Mitsui & Co. with a contract to supply head hardened rails (HH-Rails) for the 73.95 km Phase 2 project.
These special tracks will be 60E1 – 1080 grade as per Indian Railway Specification T-12-2009, and manufactured through a special heat treatment process to provide additional strength, lower residual stress, elongate track-life and minimize maintenance.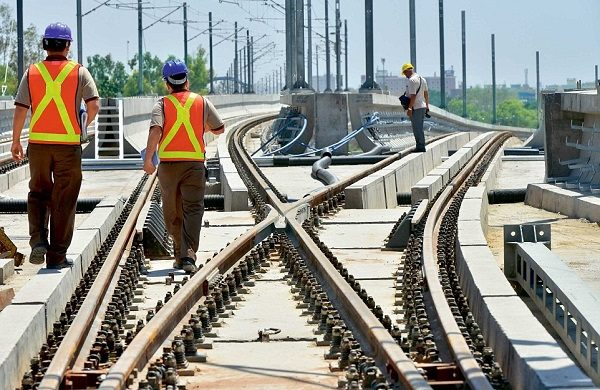 Prior to this, elsewhere in India – Mitsui won a similar contract for Ahmedabad Metro's 39 km Phase 1 project in August 2017 for supplying 10,600 metric tonnes of Head Hardened Rails.
Bids for this system-package were invited in July 2019 under package HH RAILS/RT01/2019/47, and the BMRCL just updated their website to indicate they issued a Letter of Award (LOA) to Mitsui & Co. Ltd. on December 5, 2019 for combined contract value of $10.8 million USD & Rs. 4.08 crore.

Going by the package's name (includes "RT01") – these rails could very likely be installed on the 21.386 km Pink Line (Line-4)'s South Ramp at Dairy Circle (view map), which is a part of package RT-01 awarded to Afcons Infrastructure in November 2019.
Texmaco Rail & Engineering Ltd is the track supplier & installer for the rest of the Phase 2 project's elevated viaducts, tunnels and depots. They were awarded a Rs. 521.76 crore contract in July 2018, and are currently working on two of the four extensions of the purple and green lines.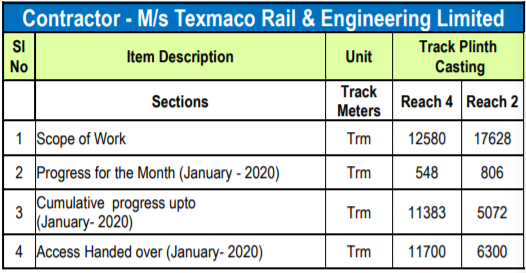 Reach 4 refers to the Green Line's 6.29 km Yelachenahalli (erst. Puttenahalli) – Anjanapura extension, while Reach 2 refers to the Purple Line's 8.814 km Mysore Road – Challaghatta extension.
For more updates, check out the Bangalore section of The Metro Rail Guy!
– TMRG