Update (March 17): NCRTC's PR agency reached out with a clarification – This is to share that the 'Smart Lines' mentioned in the brochure or any other press releases doesn't implicate that RRTS lines have been named as Smart Lines. Here Smart word is used as a form of language like smart technology, smart phones etc. We are yet to officially decide the name for our RRTS lines and whenever it will be done we will be the first to inform.
Original Post (March 16):
This might not be news to some of you, but to me it is!
As per a brochure published on the website of the National Capital Region Transport Corporation (NCRTC), Delhi's upcoming semi-high speed Regional Rapid Transit System (RRTS) corridors have been branded as Smart Lines.
The brochure was published in September 2019, but on Google I see the first time this name was ever used was way back in November 2017 – in a press release by the Ministry of Housing & Urban Affairs announcing an Indo-Spanish technical cooperation (government to government) agreement to provide training, collaboration and technical advice for this new system.
In the project's 349 km Phase 1, which is about as large as the Delhi Metro's current network, three RRTS corridors or Smart Lines with 62 stations have been prioritized for development where trains will run with a maximum speed of 160 km/hr and average speed of 100 km/hr to connect Sarai Kale Khan with other neighborhoods within Delhi, Delhi's suburbs, and towns in the National Capital Region (NCR).
This weekend, among other pages, I added independent pages for each Smart Line with in-depth information on their routes, stations and current tender status.
• 82.15 km Delhi – Meerut Smart Line – view detailed info
Status: Under Construction & Civil/System Bidding Underway
• 164 km Delhi – SNB – Alwar Smart Line – view detailed info
Status: Initial Civil Bidding Underway
• 103 km Delhi – Sonepat – Panipat Smart Line – view detailed info
Status: Pending Approval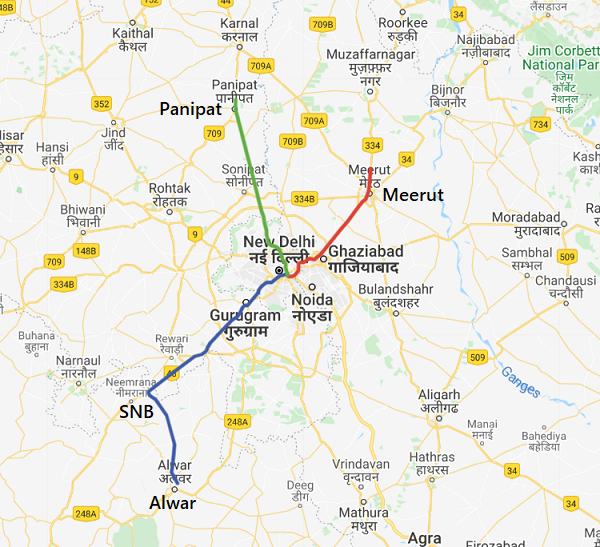 In the next phase(s), five additional lines will be developed. All of these were earlier mapped out on the NCR RRTS page.
Delhi – Faridabad – Ballabhgarh – Palwal Smart Line (60 km)
Ghaziabad – Khurja Smart Line (83 km)
Delhi – Bahadurgarh – Rohtak Smart Line (70 km)
Ghaziabad – Hapur Smart Line (57 km)
Delhi – Shahadra – Baghpat – Baraut Smart Line (56 km)
Personally, I'm not sure if I like this name. Seems like they got on the 'Smart' bandwagon (Smart Cities mission, Smart Utility Week, Smart Village…smart everything). Perhaps something with the word rapid or express, like Seoul's upcoming GTX (Great Train eXpress), would have been nice.
Yay or nay? Drop a comment if you have any other ideas.
For more updates, check out the NCR RRTS section of The Metro Rail Guy!
– TMRG