Per a report in the Hindustan Times, the 16-member standing committee of Pune Municipal Corporation on March 17 approved a 5.464 km underground extension of the 16.589 km Purple Line-1, with 3 new stations, from Swargate Station to Katraj in south Pune.
"The standing committee has approved the detailed project report (DPR) submitted by the Maharashtra Metro Rail Corporation (Maha-Metro) for the extension of corridor from Swargate to Chinchwad. Now the route has been extended till Katraj. The civic body will give Rs 233 crore for the rehabilitation work. Final call will be taken by the general body."

Hemant Rasne, Standing Committee Chairman
Back in January 2020, this extension's Detailed Project Report (DPR) was presented by the Maharashtra Metro Rail Corporation Limited (Maha-Metro) to the Pune Municipal Corporation. It estimates the extension to cost Rs 4283.72 cr and have a daily ridership of 95,000 riders in 2027 and 1,97,000 in 2057.
I've seen conflicting reports on where the 3 new stations will be built. An old HT report suggests Pushmangal Chowk (does this place even exist?), Shankar Maharaj Mutt and Rajiv Gandhi Zoological Park in Katraj, while a TOI report from January suggests Gultekadi (Market Yard), Saibaba Nagar and Katraj.
I've mapped out how both options along Satara Road and Gandadham – Shatrunjay Road might look like –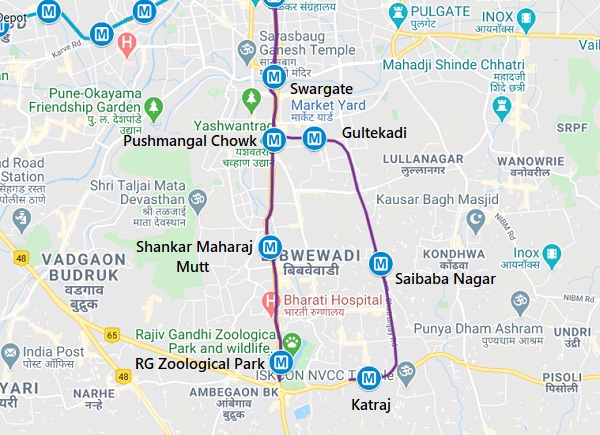 The HT report explicitly mentions they accessed a copy of the DPR, so I'm inclined to believe the line's extension is planned to follow Satara Road and terminate at Rajiv Gandhi Zoological Park.
The extension now requires the PMC general body's approval before being sent to the state government for its cabinet's approval. Prior to that, it would be nice if Maha-Metro made the DPR available in the public domain.
For more updates, check out the Pune section of The Metro Rail Guy!
– TMRG