As per TOI, Urban Mass Transit Company Limited (UMTC) has been appointed by the Amravati Metro Rail Corporation to prepare a new detailed project report (DPR) for Visakhapatnam Light Metro's 79.91 km Phase 1 project.
UMTC put in the lowest of bid of Rs. 5.33 crore and will be responsible for updating the original DPR, which had 42.54 km of heavy-rail based metro lines, with another 33.5 km of lines and a 3.85 km new extension of Line-1 from Gajuwaka to Vizag Steel Plant.
We will initiate bidding process for the metro rail project in the fourth month after the start of the preparation of the DPR. The bidder for the second phase project will be finalized by end of this month. We have received two bids for the preparation of the DPR.

NP Ramakrishna Reddy, Amravati Metro Rail Corporation's MD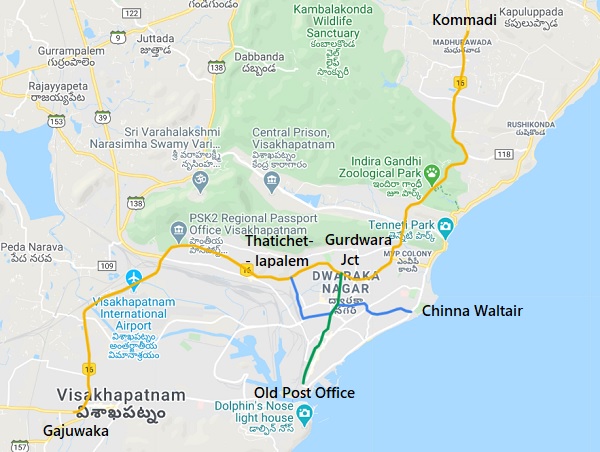 Maybe it's just a case of poor reporting by TOI, but looking at the MD's statement – I don't see how civil bidding can be initiated while the DPR is being prepared – without any sort of approvals or funding in place.
The original 3 lines, totaling 42.54 km, have been mapped above and include:
• Line 1 – Gajuwaka to Kommadi – 30.38 km with stations at Kommadi Junction, Hanumanthawaka Junction, Maddilapalem, Gurudwara Junction, Akkayyapalem, Kancharapalem, Muralinagar, Government Polytechnic College, Thatichetlapalem, Kancharapalem, Murali Nagar, GSI, NAD Junction, Visakhapatnam International Airport, Sheela Nagar, BHPV, Auto Nagar and Gajuwaka.
• Line 2 – Gurudwara Junction to Old Post Office – 5.25 km with stations at BVK College, RTC Complex, Dabagardens, Saraswati Circle, Poorna Market and Old Post Office.
• Line 3 – Thatichetlapalem to Chinna Waltair – 6.91 km with stations at New Railway Colony, Railway Station, Allipuram Junction, RTC Complex, Siripuram Junction, Andhra University and Chinna Waltair.
Per AMRC's website, the 37.41 km of new routes include the following lines. The route of Line-4 pretty much follows Line-1, so I'm a little hesitant to draw out how the 79.91 km new master plan will look like.
• Extn of Line-1 – Gajuwaka to Vizag Steel Plant (3.85 km)
• Line-4: Law College Junction to Marikivalasa (8.21 km)
• Line-5: Kommadi to Bhogapuram Airport (25.3 km)
For more updates, check out the Visakhapatnam section of The Metro Rail Guy!
– TMRG