The Gujarat Metro Rail Corporation (GMRC) today invited bids from engineering design firms for the appointment of a Detailed Design Consultant (DDC) to assist with executing the elevated portion of Surat Metro's 40.35 km Phase 1 project.
This is an excitement development as the appointment of a DDC for developing the line's design is the most important step GMRC has to take prior to start of tendering for civil construction. The role of the DDC typically includes, but is not limited to, producing and proposing alternate designs of all civil, architectural, building services, electrical and mechanical works.
The scope of this DDC contract includes the entire 18.741 km Line-2 connecting Bhesan – Saroli with 18 stations and a 4.4 km eastern section of Line-1 with 4 stations connecting Sarthana with the UG Ramp near Kapodra.
Tender No: GMRC/DDC/ELEV-VDCT+STNS & DEPOT/SURAT/PH-1/2020
Scope: "(i)"Detailed Design Consultancy Services for Corridor 1 From Sarthana Dead End (Ch : -450m) to end of UG Ramp (Ch: 3950m), Elevated Viaduct, Elevated Station (4 Stations) including Viaduct portion within the Stations and Transition Spans on either side of the stations" and "(ii) "Detailed Design Consultancy services for Corridor 2 from Bhesan Dead End (Ch: -949.63m) to Saroli Dead End (Ch: 17791.9m), Elevated Viaduct, Elevated Station (18 stations) including viaduct portion within the stations and transition spans on either side of the stations & depot at Bhesan" in connection with Surat Metro Rail Project, Phase – I"

• Approximate cost of work Rs. 40.42 Crore
• Completion period of Work 42 months
• Tender documents on sale: 13.05.2020 (from 11:00 hrs) to 16.06.2020 (up to 12:00 hrs)
• Prebid Meeting: 26-05-2020 at 11:00 hrs
• Last date and time of submission of E-Tender: 16-06-2020, 15:00 Hrs
• Opening of Technical Bid: 16-06-202015:30 hrs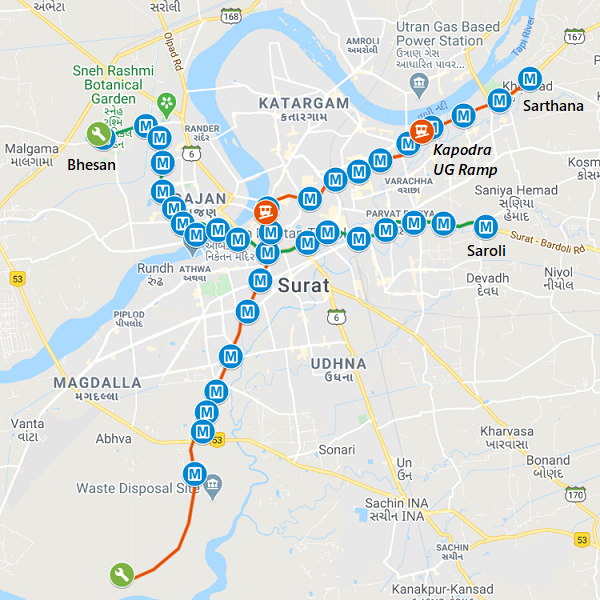 The scope of the 21.61 km Line-1's 6.47 km underground section (Kapodra – Gandhi Baug) and remaining 10.74 km elevated section (Gandhi Baug – Dream City) are expected to be a part of 2 separate DDC contracts.
For more updates, check out the Surat section of The Metro Rail Guy!
– TMRG